Istana Jambu in Kediri Regency, East Java Province
---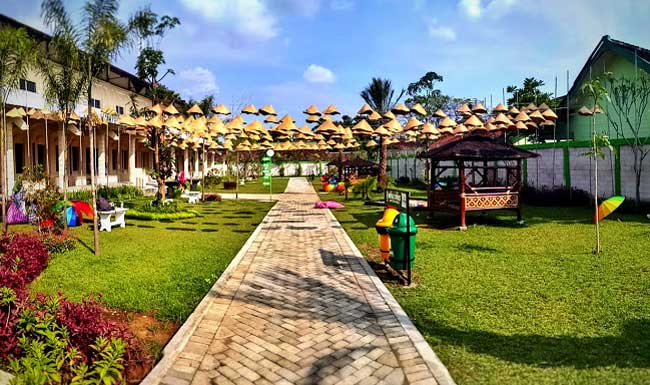 A nice vacation involves both good partners and excellent destinations. For those visiting Kediri Regency in the next holidays, they can start with Istana Jambu. In terms of name, "Istana" means a castle while "Jambu" means guava. As the name suggests, this agro-tourism site offers lush guava trees for tourists to explore. Visitors indeed are able to enjoy photography and family recreation there. Not to mention they have the chance to pick or harvest those sweet fruits directly from the farm. As long as they get the concern from the keepers and come at the right time, they are allowed to do so.
The Nuance
The nuance is both comfortable and beautiful. Thanks to the shady guava trees that dominate the area. Despite the fact, visitors can find other features in Istana Jambu. The site has many beautiful ornaments, including colorful hanged umbrellas, hanged farmer's hat, gazebos, gardens, and much more. Also, it comes with a grassy landscape which is suitable for a family recreation and relaxation. In terms of size, the place is moderate but it is able to accommodate lots of visitors.
Exploring Istana Jambu
The prime allure in Istana Jambu is definitely the guava garden. During the harvesting season, the site is quite crowded due to a high number of visitors. These people want to pick those fruits directly from the farm, after all. This rare experience is indeed quite satisfying. Most of the visitors are local families and those who love nature. They can simply sit under the trees and enjoy the nuance. The best thing to do is to pick those fruits, though. Eating guavas directly on the farm is also allowed!
The next common thing to do in Istana Jambu is photography. Aside from taking photos of guava fruits, tourists can take photos of other objects in that area. Some spots are good enough for taking selfies, in fact. Tourists only need to carry a camera and find the right location for photography. During a crowded time, in this case, they should queue in order to get the best spot and more comfortable feeling.
What is more? The presence of gazebos helps tourists to relax to their heart's content. These are located in the grassy garden, actually. That means the nuance would be quite soothing either. While sitting on the gazebo, everyone should eat some fruits with their families. All of these activities can be done comfortably after paying the entrance fee, though. Have no worries. It costs nothing, as everyone would be able to afford it.
Nearby Attractions

Tjoe Hwie Kiong Temple
Sumberagung Fountain
Waduk Sri Tanjung
Hammock Park
How to Get There
Tourists' first destination would be Kediri Regency. For those coming from Surabaya City, they may spend around 1 hour and 59 minutes in order to reach the destination. It is because the distance is 120 km. As for the best routes, tourists can simply take Surabaya – Mojokerto Highway first. Next, they should take Mojokerto – Kertosono Highway. After arriving at Kediri, the next destination would be Sonorejo Village at Grogol Sub-District where Istana Jambu is located. This trip may take around 55 minutes, as the distance is 32.9 km. As for the best route, it is Raya Kediri – Nganjuk Street.
Where to Stay

Omah Pawon Hotel
Mitra Inn Hotel
Coconut Hotel

Latest News
Tegowangi Temple Tegowangi temple is one of ancient temple in Kediri region. This temple has saved many stories about Kediri history. There are some reliefs on the temple wall that interest the tourists who like the historic tourism. The temple is stand in one complex and it looks like a rectangular form. This temple is one historical tourism objects in Kediri regency. Find the historic value by visit this old temple. More info visit www.eastjava.com
---
Mount Kelud Today, Mount kelud is very phenomenal with its new dome that exists from its lake. To reach Mount kelud, the visitors can use motorcycle and the direction come from Kediri to Wates continued to Margomulyo – Bambingan till Jurang Gelap or Mount Pedot. From Jurang Gelap till the new dome of Mount kelud is about 2 km and you can go on foot. Mount kelud has change, it had green crater before explode, but today the beautiful crater is gone and turn up new crater that different from…
---
Bukit Daun Hotel And Resto Bukit Daun Hotel And Resto Is a Located Argowilis Street 777, kediri East Java. It has great sense of uniqueness, ethnic and fresh air. This hotel is so cool. The distance is about 5 km from the town of Kediri in the way to Puhsarang. The location is in the hills with nice hotel setting and cozy atmosphere. The rate of only 170-600 thousand a night, it is a very recommended for family lodging The facilities are about large pool, nice room, and the calm…
---
Puhsarang Church This church is located in Puhsarang village, Semen district of Kediri, that's why it is called Puhsarang Church. The location is 10 km in western Kediri City. This old church had built by Ir. Heendricus Maclaine on behalf of pioneer Mr. Yohanes Humbertus Wolters CM in 1931. The architecture is collaboration between European and Majapahit, combination with other local cultures and Christianity. The first establishment of the complex is the "Antique Church", Puhsarang Church. The structure of the church has unique architectural style form and we can see…
---