About Kediri Regency
---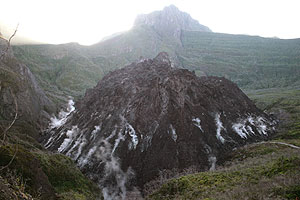 Kediri is one of clean and a cool city in East Java that has famous since long time ago. It is situated on Brantas River, at the foot of Mount Wilis, 65 miles (105 km) southwest of Surabaya. It is the centre of a sugar industry and of trade in such agricultural products as coffee, tobacco, rice, and cassava. The city's light manufacturing includes textile and lumber mills and machine shops. Historical remnants scattered around Kediri showing that it had played important roles in many eras. It's just a nice place to stay Kediri has now become the educational, industrial as well as tourism center. As a center of tourism, Kediri has a lot of places of interests which are classified into local, regional, national and international standards, Tourism Kediri such as; Mount Kelud, Puh Sarang, Ngeyangan Waterfall, Dolo waterfall, Sri Aji Joyoboyo graveyard.

In realizing the development, at first, Kediri Regency is developing Trade Center - Simpang Lima Gumul (SLG) whose area is 37 hectare. The concept of structuring this area is mass block (building) with radial system that has a monument in the middle of Trade Center area. The Monument will be built exactly alike Arc de' Triumph in Paris, France in the size in other aspects. The building surrounding CBD-SLG will be designed contemporary style with full of west Europe (France) characteristics, which is integrated into one business area that is easy to connect each other. By developing Trade Center-SLG, investment in the hotels, malls, shops and whole-seller center is very prospective.

Geographically
Kediri Regency is lies between 110o 47' 05" - 112o 18' 20" east longitude and 7o 36' 12" - 8o 00' 32" south latitude. The average of rainfall reaches 2,326 mm, and 110 days rain falling per annum. The average temperature reaches 22.420 ºC maximum and 21.08 ºC minimum. The highest level reaches 29 ºC, and the lowest level reaches 20 ºC.
This regency is bordered by:
North side: Jombang regency and Nganjuk regency
South side: Tulung Agung and Blitar regency
East side: Malang and Jombang regency
West side: Nganjuk and Tulung Agung regency

Wide Area
Kediri regency Area covers of 1,386.05 km square = 138,605 hectares. It lies between the plains and the mountains, and 35.07% (48,614 hectares) consists of paddy field and 64.93% (89,99 hectares) dry land. Focusing on the farmland, 73.3% of it is arranged by technical irrigation, 68% by semi technical, and 2.6% by water that depends on the rainfall. The dry land consists of 33.6% compound land, 30.8% dry land (Tegalan), 10.8% estate, 18.7% forest, and 6.1% other.

Administratively
Kediri Regency consists of 4 sub regencies, 21 districts, 343 villages, 1 village administrative unit, 2,763 RW (administrative hamlets) and 8,779 RT (neighborhood association). The sub regency in Ngadiluwih supervises 5 district areas that are Pare, Kandangan, Kepung Plosoklaten, Puncu, and Gurah. The sub regency in Papar supervises 5 district areas, which are Papar, Pagu, Kunjang, Plemahan, and Purwosari. The sub regency in Kediri supervises 5 district areas, which are Grogol, Gampengrejo, Mojo, Tarokan, and Semen.

Latest News
Tegowangi Temple Tegowangi temple is one of ancient temple in Kediri region. This temple has saved many stories about Kediri history. There are some reliefs on the temple wall that interest the tourists who like the historic tourism. The temple is stand in one complex and it looks like a rectangular form. This temple is one historical tourism objects in Kediri regency. Find the historic value by visit this old temple. More info visit www.eastjava.com
---
Mount Kelud Today, Mount kelud is very phenomenal with its new dome that exists from its lake. To reach Mount kelud, the visitors can use motorcycle and the direction come from Kediri to Wates continued to Margomulyo – Bambingan till Jurang Gelap or Mount Pedot. From Jurang Gelap till the new dome of Mount kelud is about 2 km and you can go on foot. Mount kelud has change, it had green crater before explode, but today the beautiful crater is gone and turn up new crater that different from…
---
Bukit Daun Hotel And Resto Bukit Daun Hotel And Resto Is a Located Argowilis Street 777, kediri East Java. It has great sense of uniqueness, ethnic and fresh air. This hotel is so cool. The distance is about 5 km from the town of Kediri in the way to Puhsarang. The location is in the hills with nice hotel setting and cozy atmosphere. The rate of only 170-600 thousand a night, it is a very recommended for family lodging The facilities are about large pool, nice room, and the calm…
---
Puhsarang Church This church is located in Puhsarang village, Semen district of Kediri, that's why it is called Puhsarang Church. The location is 10 km in western Kediri City. This old church had built by Ir. Heendricus Maclaine on behalf of pioneer Mr. Yohanes Humbertus Wolters CM in 1931. The architecture is collaboration between European and Majapahit, combination with other local cultures and Christianity. The first establishment of the complex is the "Antique Church", Puhsarang Church. The structure of the church has unique architectural style form and we can see…
---