Koncok-Koncok
---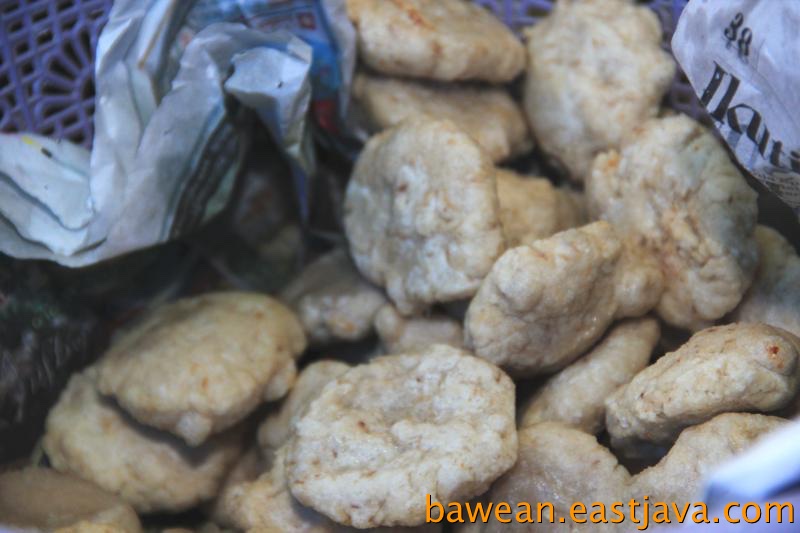 Based on its geographical position of Bawean island which surrounded by sea, it would not be surprised if there are many foods made from fish in this island. Jhukok name of fish in Bawean language is the main meal of Bawean society. They say that it is not eating if you not eat sea fish.
Start from breakfast, lunch to dinner all dishes made from fish. Eg; breakfast with kella-kella fish, lunch with Tono-Tono Jhukok (in Bawean, fish grilled called tono-tono) while dinner with stew fish.
Anyway, the whole day you will eat fish. Not only at your meals containing fish, the snacks also made from fish. Such as meatballs with fish, fish crackers, (the most famous Posot-Posot cracker), petis (such kind of mustard), until the famous Bawean snack, Koncok-Koncok.
Koncok-koncok is commonly used as souvenirs. By Bawean communities outside the island or tourists who come to Bawean. This snack is still in demand until now. Some people say Koncok-Koncok as Pempek Bawean. So if you hear about Pempek Bawean, it is as same as Koncok-Koncok.
Koncok-Koncok name originated from the food itself which the end part of the dough to make fish crackers. While the middle part is the part to make crackers. In Bawean language, Koncok-Koncok means end section. Originally word is Koncok that means end.
But now it has become a special snack from Bawean that a lot of people like it. Not only the end part that will produced to crackers, the middle part also. And the other differences of Koncok-koncok and common cracker dough is the dominant material of fish. Koncok-koncok has fish flavor. The more fish, the more delicious.