Bawean Deer Reserved
---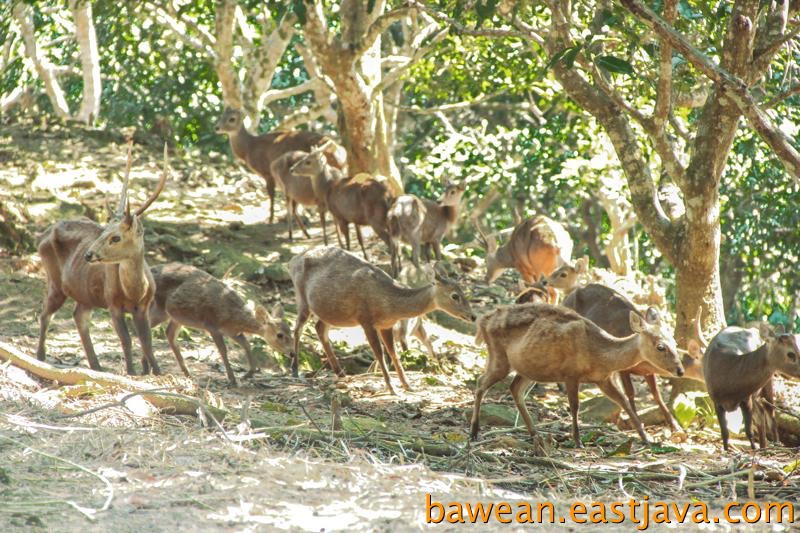 This deer reserved is located in Beto Gebang Pudakit Barat, Sangkapura district. It is about 10km from Sangkapura with 30 minutes trip. To reach this reserved that located in the hill area, you can use it motorcycle or car. The road is pretty good, at least to reach the closest village. But when you enter the forest area, the road is not too good because is not paved yet. But this uncomfortable road will be difficult to passed only in rainy season because the wet ground is so slippery when rain.
Bawean Deer or Axis Kulii that live in Bawean Deer reserved is not transfer animal from another reserved. So, the 30 deers is native habitat of Bawean island. This reserved is located at foot part of Mount Gadung and borders with Bawean conservation forest. The location is very potential for study tour, research and eco-tourism. Surely, the reserved is still fresh and there are many various birds here. The cliffs that surrounded the reserved are the recommended object for climbers. The wide of the reserved is about 4hectares.
Meanwhile, the deer itself is wild and endemic, not same as others reserved and the visitors are not allowed to give some food to them. But here, the visitors can enjoy the beautiful cliffs and birds chirp. It so calm and natural.
By this Bawean Deer reserved, hopefully the Bawean Deer habitat has reserve and not extinct.
Photo Gallery