The Abui (Mountain) tribe, preferring called Abui Laku, which means mountain people. They live in the corner of Alor Regency. The existence of Abui tribe with its culture is preserved by Alor Regency Government. They become the charm of cultural tourism in Alor, East Nusa Tenggara (NTT), which is popular with marine tourism and dugong mammals.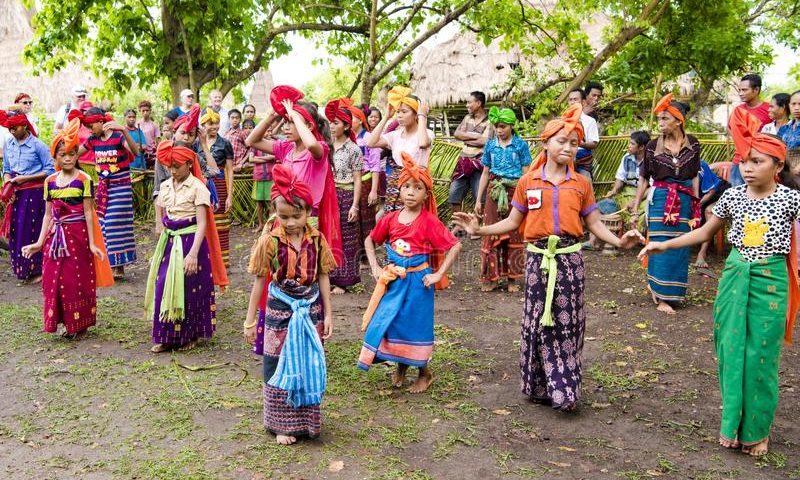 Takpala Village is a traditional village in Lembur Barat Village, Alor Tengah Utara District, Alor Regency, East Nusa Tenggara. The location of the village on the hill is inhabited by about 13 Abui family heads. Takpala Village is a tourist asset, as a cultural preservation and protected by the regional regulations of Alor Regency. Its popularity as a village that is able to maintain customs and traditions, making it one of the mandatory destinations, when visiting Alor.

One of the Abui uniqueness is its traditional clothing woven made by traditional tools. The clothes they use to welcome tourists who come to their villages, while dancing lego-lego. For fashion, dancers usually use Alor's sarong and woven cloth. For male dancers, they use a head covering made of cloth, and the hair of the female dancers in loose. In addition, the dancers are equipped with anklets that produce sounds following the footsteps of the dancers.

If you are interested in wearing it, tourists can also wear or rent custom clothing complete with head accessories and anklets. This is the main attraction, which attracts tourists to take pictures with a very natural setting, including the Lopo houses – made of bamboo and pyramid-shaped reeds. To reach Takpala Village, tourists can use a motor with about 11 kilometers from Kalabahi the capital city of Alor Regency or about 30 minutes to get there. So if you go to Alor, don't forget to visit Takpala Village.
–sh