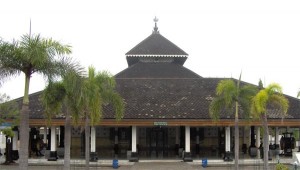 Demak
Demak is one of the regencies in Central Java province, it bordered by Jepara regency and Java Sea to the north, Kudus and Grobogan regency to the east, Grobogan and Semarang regency to the south and Semarang city to the west.
Demak Regency has 34.1 km long beach, stretching in 13 villages, with a land surface elevation from sea level, Demak regency located ranging from 0 M to 100 M.
There some tourism destination in Demak, like, Morosari beach, Tirto Samudro Bandengan beach, Kartini beach and many more. The most well-known destination in Demak is the historical of Demak Great Mosque, this mosque is the oldest mosque on Java built in 1466. The Demak Grand Mosque or Masjid Agung Demak was designed by Sunan Kalijaga and was built from timber as a classic example of a traditional Javanese mosque. These exquisite blue and white tiles are believed to derive from Champa in modern-day Vietnam, a kingdom with which Demak's former rival Majapahit had extensive trade contacts. In the environment of Masjid Agung Demak there are also graves of the sultans of Demak and a museum.