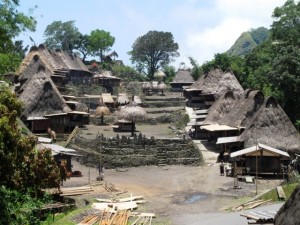 Bena Village
Kampung Bena, or Bena Village is one megalith villages in Indonesia. It located in Tiwuriwu village, Aimere sub district, Ngada regency, East Nusa Tenggara. This village is settled in uphill with the view of Mount Inerie. The location at below of the mountains are the hallmark of the old cult of mountain as the place of the gods. According to the local inhabitant, they believe in the existence of Yeta, the god who settled in the mountain who protect them and their village.
This village currently comprises about 40 houses that surround each other. Village grew elongated body, from north to south. The entrance to the village just to the north. While the other end in the south has a top edge of the cliff at the same time.
In the midst of the village there are some buildings that they call bhaga and ngadhu. Bhaga building looks like a small cottage (without occupants). While ngadhu of colonnaded buildings and single-fiber-roofed thatched cottage, which looks similar to the shade. Ngadhu is an usual pole of a special type of hard wooden material, because they serve as the scaffold when there is sacrificial animals traditional party.
The inhabitants of Bena are belong to the tribe of Bajawa. The majority of Bena are adherents of the Catholic religion. Generally, Bena people are live as farmers, but for women, they also doing weaving.
At the beginning, there was only one clan in the village, which was Bena Clan. Because there were marriage across clans, then made some new clans that born to be the whole village nowadays in Bena. Bena people is having matriarchal system their kinship.
This village has not been attach to any kind technological advances. The architecture of the building is very simple, with only one gate for entry and exit, according to government of Ngada, Bena Village is estimated to have existed since 1,200 years ago. Up to now, the pattern of life and the culture of the people has not changed much. Where the people are still hold fast to traditions that passed down by their ancestors.
This cultural site were registered as one of the world heritages in UNESCO in 1995, but it has been visited by many foreigners that come to East Nusa Tenggara. The humble heart of the indigenous people will sincerely welcome the visitors that coming to their village.