Dara Juanti Museum in Sintang Regency, West Kalimantan Province
---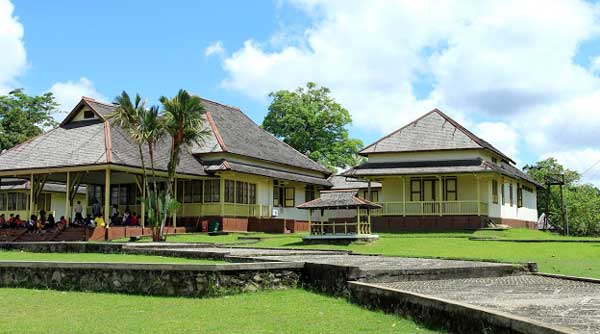 Sintang Regency becomes an attractive vacation destination these days. This explains why the number of visitors or tourists increases as time goes by. As for tourist sites, there are many. One of them is located in downtown, which is called Dara Juanti Museum. The exact location is at Kapuas Kiri Hulu Village. The museum stores numerous historical items that relate to the Sintang Kingdom. Another great thing is that it resides beside the famous Al-Mukarramah Palace. Despite the age, the museum is quite maintained. Not to mention it becomes the home of the local sultan! As for tourists, they can explore the museum while watching unique historical objects as well as learning history.
The Nuance
In terms of nuance, Dara Juanti Museum looks serene and calm. Once arriving at the yard, tourists may see a terrace of the main building. A vast grassy landscape welcomes them, as well. A small pier also resides across the street. In that spot, tourists may see Saka Tiga, which is the meeting point of river flows between Melawi and Kapuas River. At the veranda, lots of information regarding local history can be seen. Not to mention various objects reside including cannon and weapons. In terms of architecture, the museum looks like a local building. It even features a small gazebo in the yard.
Exploring Dara Juanti Sintang Museum
Well, it is better to come with a local guide who knows thorough information about all stored objects in the Dara Juanti Museum. Also, this person would give information regarding the meaning of the name. It is said the name derives from the name of the founder of Sintang Kingdom's daughter – Princess Dara Juanti. When it comes to the feature, the most noticeable one is the Garuda symbol, which was Patih Lohgender's handover when he was going to propose Dara Juanti.
Before entering the museum, tourists can relax first in the yard. A gazebo resides in that area, after all. Also, a beautiful grassy landscape would accompany them. After spending some time in the veranda, it is time to enter the building. Inside, lots of historical items are stored neatly. Most of them are weapons, actually. Some musical instruments of Dayak Tribe can also be found there. The next interesting item is the Quran script written by Sultan Nata.
Well, during exploration, tourists are not allowed to litter or touch those objects. Fortunately, photography can be done freely either outside or inside the building. In order to avoid the crowd, in this case, everyone should consider visiting Dara Juanti Museum only during regular days. After all, most guests come either on weekends or holidays.
Nearby Attractions

Bungur Park
Al-Mukarramah Palace
Kapuas River
Pangeran Kuning Monument
Baning Forest
How to Get There
First, tourists need to reach Pontianak City, which is the capital of West Kalimantan Province. They can get there fast by airplane, actually. For instance, a flight from Soekarno – Hatta International Airport to Supadio Airport would take around 1 hour and 25 minutes. Next, from Supadio, tourists need to take another plane and head to Sintang Regency right away. A flight from Supadio to Susilo Airport would take around 40 minutes, actually. Once arriving at Susilo, they can take Dara Juanti Street and head to the museum immediately. The distance is 8.5 km, so the trip would take about 17 minutes.
Where to Stay


Latest News
Indonesia is a country of Bhinneka Tunggal Ika, where there are many provinces inhabited by various ethnic groups. Not only the culture and cuisine are different, the traditional house designs of each province are also different. Traditional house designs have their own philosophy and function. It's no wonder that none of the designs are exactly the same, including the West Kalimantan traditional house belonging to the Dayak tribe named Rumah Radakng. Radakng's house is often also referred to as a long house. This term really describes the state of a…
---
Temajuk marks the point where Indonesia ends and Malaysia starts. Not yet known to many domestic and international travellers, Temajuk Village features a tidal beach with soft, white sands dotted with granite rocks. Underwater sightseeing is made possible as the water is clear. Temajuk beach, actually running at a very long 60 km of coastline, is a tidal coast area featuring soft, white sand and preserved environment. One thing that differs this beach from Balinese beaches is portruding granite rocks distributed evenly throughout the coastal environment. In places, granite rocks…
---
Sinka Island Park Singkawang is a small town in the west Kalimantan, but there are many interesting tourism inside the town. One of popular destinations in Singkawang is Sinka Island Park; there is a zoo which has many kind of animals and a recreational park family vacation and playground for children. Sinka Island Park is located in " kelurahan sedau", " kecamatan Singkawang selatan", around 9 km from Singkawang center. To reach this park, from Singkawang center you can go to there by bus, motorcycle, and our personal vehicle. In…
---
Pontianak Pontianak is officially the capital city of West Kalimantan province, the ethnic of Tionghoa call this city as Khun tien. This city is famous as the City of Equatorial for it passed by the earth zero degrees latitude. The name of Pontianak was belived had something to do with the folk tale about Syarif Abdurrahman which was haunted by the ghost of Kuntilanak when he walked along the 1.1 megameter Kapuas River, which is the longest river in Indonesia. Abdurahman Sharif had fired the cannon to drive away the…
---