Ranu Darungan in Pronojiwo Sub-District, Lumajang
---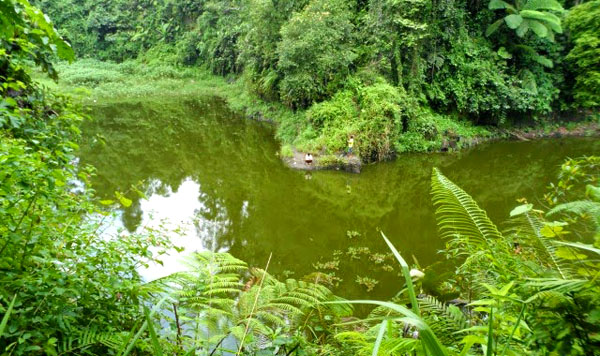 Lumajang City has another beautiful lake located in Pronojiwo Sub-District. The name is Ranu Darungan Lake or local people often call it Linggo Rekisi. Derives from the name is surrounded by lots of Rekisi trees! Apart from its beauty and solemn nature, the lake holds a historical value as it belonged to the Dutch back then. Today, the lake has been chosen as one of the most recommended tourist spots for those who are visiting Bromo Tengger Semeru National Park. Equipped with other lakes which are also available in that location.
As mentioned before, Ranu Darungan Lake is surrounded by Rekisi Trees. Even though the water is quite soothing, no one is allowed to get or swim in it. Some water plants are also seen floating on the lake, which somehow appears beautiful. The next feature is an ancient lodge located on a particular part of the lake. The fact is that the lodge belonged to the Dutch who managed the site as an orchid natural conservation. The reason is the site was the home of rare wild orchids and the Dutch tried to protect them from extinction and thievery.
It is safe to say Ranu Darungan Lake shares similar functionalities to other lakes in Lumajang. That means it is suitable for camping and other fun activities there. The nuance is both calming and challenging, after all. The next feature that makes it a perfect spot for camping is the presence of exotic animals like eagles, monkeys, insects, etc. They often make some noises which are quite peaceful to hear. For campers, the sound of nature is definitely soothing to hear. Moreover, the atmosphere becomes more comfortable at night! No one can disturb tourists' camping activity there.
The lake also becomes an important place for the locals (Tengger Tribe). They take advantage of the lake, especially as a tourism potential. One thing that tourists should know, though, Ranu Darungan often gets drought and leaves a small puddle in the middle of it. Despite the bad condition, such phenomenon attracts more tourists due to its uniqueness. Visitors want to see it by their own eyes and take pictures of such puddle using their camera. In this case, the best time to visit the lake is definitely during the dry season.
On the other hand, those who want to enjoy the lush nature and the beauty of Ranu Darungan Lake should come aside from the dry season. According to the locals, the water of the lake comes from the underground river. Some people don't believe it, though. Apart from such story, the lake features a big tree which becomes the home of numerous animals like turtledoves, eagles, and other Javanese animals.
How to Get There
Ranu Darungan Lake is located in Pronojiwo Sub-District. From Lumajang City, tourists can take Nasional III Street and spend about 1-2 hours. The distance between those regions is 44 km, after all.

Latest News
Mandara Giri Temple Mandara Giri Temple is one of religious tourims in Lumajang that often visited by many pilgrimage. This great temple also save Lumajang history in the past. When you are lucky, you can visit this temple while the traditional ceremony being held and there will be interesting ceremonial presented. At this location a religious ceremony is performed by Hindus, who are primarily Balinese. They perform the MEMENDAK THIRTHA ceremony and the MJEJAUMAN ceremony on Mount Semeru. The annual ceremonies are conducted in July. Balinese traditional dances are performed…
---
Dampar Beach Dampar Beach is located in Bades Village, in Pasirian district, about 28 Km from Lumajang. It is a popular tourist beach with beautiful white sand along the beach. Dampar Beach is one of Lumajang beaches that offers its calm waves and soft wind. The visitors can do some beach activities in this beach, such as; swimming, fishing, diving, beach sport on the white sand that spread along the beach, and the others. Visit this beach and spent your holiday with your family here. www.eastjava.com
---
Semeru Mountain Semeru Mountain, most people recognize as just Semeru, is a volcano mountain that settled in East Java, precisely in Lumajang regency. Semeru in the highest mountain in Java which has 3.676 meter above sea level and it also known as the Mahameru or Great Mountain. The name Semeru was derived from Hindu-Buddhist mythical mountain of Meru or Semeru, the abode of gods. The summit crater in Semeru is called Jonggring Saloka. In 1913 and 1946 the Jonggring Saloka Crater had dome with a height of 3744.8 M until…
---
Tengger People Tenggerese or Tengger People is one of Indonesian tribes that live around Bromo Mountain which located around Pasuruan, Lumajang, Probolinggo and Malang Regency. The Tenggerese are the descendants of the Majapahit Princes. Their population is about 600.000 inhabitants within thirty villages. Tenggerese are being known as obedient Hindu followers. For them, Bromo Mountain is sacred. In once in a year they held ceremony of Kasada or Yadnya Kasada as a thanks giving to the Lord. This ceremony is always held in midnite in full moon time around date…
---