The Plated Waves at Bambang Beach
---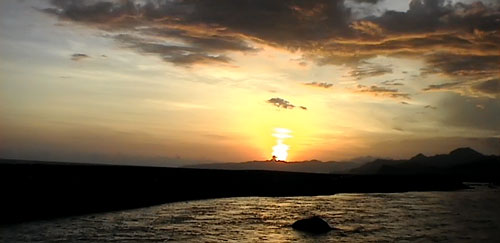 A seaside resort on the shore of the Indonesian ocean named Bambang Beach located at Bago village, Pasirian district, about 24 km from Lumajang downtown can be reached by cars or motorcycle with paved road access. Bambang Beach has huge and plated waves and believed to the locals as the sit of Nyi Roro Kidul, the legend Queen of South Sea.
A sandy beach type, also serves to accommodate rain water so that although near the sea but there are plenty of fresh water. Along the edge of beach lay black grains of sand spread wide. Here, the black sand from Semeru mountain flowing along the lava or river, with the characteristics of black sand and high-grade iron. While the west side lined with rows of mountains add to the beauty of the beach panorama. With the potential of Bambang beach tourism are expected to attract more tourists. Increased facilities, although there is a need to continue to be done, so that visitors more comfortable.
Security at Bambang Beach is guaranteed because during holidays the government tightens security to minimize crime as well as safeguarding the security of visitors on the coast, the government cooperates with the surrounding community to form a security team consisting of members of Pasirian Police Station, Koramil Pasirian member, Lumajang Police , And also the SAR team. Thus security at Bambang Beach is guaranteed so that visitors feel safe and comfortable during the holidays there.
Besides well-known as the big waves, also famous as a producer of Ornamental Stone shaped round or oval with various size, characteristic and uniqueness which formed naturally from river estuary sediment in coastal area. These decorative stones have various characteristics. There is a coarse texture and smooth. There are black, red and even bluish white. In terms of size also vary, ranging in size 1 cm to 10 cm. In terms of shape there is a round, oval and flat.
The price vary greatly depending on the natural conditions because sometimes at certain times (tidal waves) is very difficult to get as needed. But usually for black colors are more expensive because of the limited amount.
Natural ornamental stones are usually used for home decoration, gardening, pedestrian, ponds, and so forth. With a touch of fine art even become very decent and pleasing to the eye. For temporary management of natural stone has not been done well, only personal or individual who certainly without armed with good management as well. Though the needs order has also increase and continue to flow even from outside the city and province.
Visit Bambang Beach in Lumajang and enjoy its interesting beach.

Latest News
Mandara Giri Temple Mandara Giri Temple is one of religious tourims in Lumajang that often visited by many pilgrimage. This great temple also save Lumajang history in the past. When you are lucky, you can visit this temple while the traditional ceremony being held and there will be interesting ceremonial presented. At this location a religious ceremony is performed by Hindus, who are primarily Balinese. They perform the MEMENDAK THIRTHA ceremony and the MJEJAUMAN ceremony on Mount Semeru. The annual ceremonies are conducted in July. Balinese traditional dances are performed…
---
Dampar Beach Dampar Beach is located in Bades Village, in Pasirian district, about 28 Km from Lumajang. It is a popular tourist beach with beautiful white sand along the beach. Dampar Beach is one of Lumajang beaches that offers its calm waves and soft wind. The visitors can do some beach activities in this beach, such as; swimming, fishing, diving, beach sport on the white sand that spread along the beach, and the others. Visit this beach and spent your holiday with your family here. www.eastjava.com
---
Semeru Mountain Semeru Mountain, most people recognize as just Semeru, is a volcano mountain that settled in East Java, precisely in Lumajang regency. Semeru in the highest mountain in Java which has 3.676 meter above sea level and it also known as the Mahameru or Great Mountain. The name Semeru was derived from Hindu-Buddhist mythical mountain of Meru or Semeru, the abode of gods. The summit crater in Semeru is called Jonggring Saloka. In 1913 and 1946 the Jonggring Saloka Crater had dome with a height of 3744.8 M until…
---
Tengger People Tenggerese or Tengger People is one of Indonesian tribes that live around Bromo Mountain which located around Pasuruan, Lumajang, Probolinggo and Malang Regency. The Tenggerese are the descendants of the Majapahit Princes. Their population is about 600.000 inhabitants within thirty villages. Tenggerese are being known as obedient Hindu followers. For them, Bromo Mountain is sacred. In once in a year they held ceremony of Kasada or Yadnya Kasada as a thanks giving to the Lord. This ceremony is always held in midnite in full moon time around date…
---