Bull Racing
---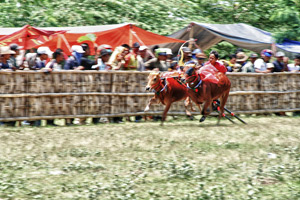 One of attraction icon of Madura culture is Kerapan Sapi (Bull Race). The bull attraction is said come from Sepudi Island, Sumenep regency. The founder of this bull racing is Katandur Prince at 13 century and round into hereditary tradition up to now. The frequent bull that competeted is minimum have been age 2 years with body height 120 cm. The track of Bull Race is in various distance:
- 120 m for bull racing of sub district level
- 130 m for bull racing of regency level
- 140 m for bull racing of district level
The bull racing organizer has been schedule every year by Bakorwil VI Pamekasan. If the tourist interesting to show the bull racing, they can order for the bull racing packet in regency tourism service in Bangkalan, Letnan Sunarto street, 15.

Latest News
Geger Hill Bangkalan Geger hill is located approximately 30 km southeast of the City Bangkalan, precisely in the village of Geger, District Geger. This hill is located at an altitude of about 150-200 meters above sea level. According to the folk legend, Geger hill was the first place that had been visited by the first civilian who came in Madura. On 7-8 Century, it was Patih Pranggulan from Mendangkawulan kingdom in the the foothill of Semeru became the first man who landed in Planggirân ( a set of rocks) in…
---
Toroan Waterfall Toroan waterfall, is another small hidden paradise that lies in Ketapangdaya Village, Madura island. Toroan waterfall is the only waterfall in Madura, and it become a particular. The particular is coming from the way of the waterfall flows directly to the ocean, precisely, Java Ocean. It has only 10 Meters high and the fall is quite high that make such a lagoon within the rocks. During the high tides, the entire area is covered by sea water and that makes the waterfall is pouring down into the ocean.…
---
Geger Hill Bangkalan Geger hill is located approximately 30 km southeast of the City Bangkalan, precisely in the village of Geger, District Geger. This hill is located at an altitude of about 150-200 meters above sea level. According to the folk legend, Geger hill was the first place that had been visited by the first civilian who came in Madura. On 7-8 Century, it was Patih Pranggulan from Mendangkawulan kingdom in the the foothill of Semeru became the first man who landed in Planggirân ( a set of rocks) in…
---
Bangkalan Lighthouse Mercusuar Bangkalan or Bangkalan Lighthouse, is located in District Socah, 6 km from the center of Bangkalan capital. This tower has 78 meters high and was build by the Dutch and it inaugurated by Z.W. Williem III in 1879. At that time, this tower was use to guide the ships that went to Tanjung Perak harbor. Before entering the gate to go inside the lighthouse, we have to buy retribution fee for about Rp. 5000 per person. This tower has 17 floors building and the range of lights…
---