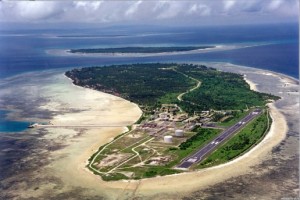 Pagerungan Besar
Pagerungan beasar is one of the islands in Kangean islands group. The island is located at the east of Pagerungan Kecil island. Administratively, the island is located in the Sumenep, East Java, Indonesia.
Pagerungan Besar Island is such a remote island that located within 60 Miles of Bali island. From the historical records, Pagerungan island had been invented and populated since the early 1910s. But now the island has been etched in the history of oil in Indonesia as a natural gas-producing region. Until now many oil companies both inside and outside the country do the exploration to the island region.
Pagerungan Besar Island is pretty much the same with other islands around it. There are rows of palm trees and banana trees seemed to be dominate plants on the island which has a population of about 4,500 inhabitants. It predominantly inhabited by the Mandar ethnic from western Sulawesi and some of the Bajo tribes. It said that the ancestors of the island came from the Mandar tribe, while the island has two languages?? for daily spoken, which is Mandar and Bajo.
Pagerungan island is also famous as the richest islands between the islands that exist in the other Sapeken district because of the abundant marine and agricultural results.
www.indonesia-tourism.com