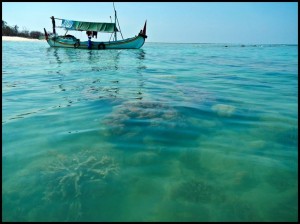 Gili Labak
Gili Labak is a small island that located in southeast side of Puteran island, the capital city of Puteran island or Madura island. Administratively, this island is in Talango sub-district, Sumenep regency, East Java.
This small island is covered only 5 hectare and there are 35 families live in this island. For those who visit this island can explore the whole island for only 15 minutes over the beach. The inhabitants are living by sea products for the land is not that fertile to be planted.
To reach this island, it takes only 1,5 hours from Kalianget port and after reaching this island, we cab see clean and sparkling water over the island.
www.indonesia-tourism.com