A Wonderful Afternoon in Tanjung Pendam Beach
---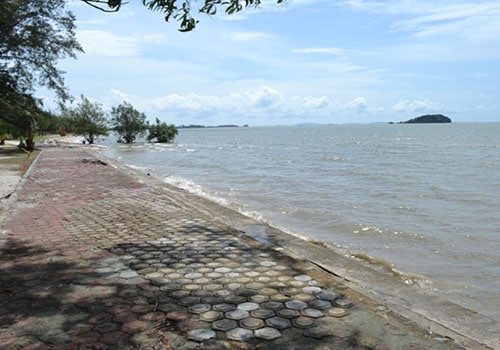 In Belitung Island, you can find many tourist spots. If you love sunset scenery, you should visit Tanjung Pendam Beach. As the name suggests, the beach is located in Tanjung Pandan City. Most of the visitors want to enjoy a beautiful sunset on the shorelines. They are families, couples, a tourist group, and even foreigners. The best attraction in this beach is its sunset view. Though, there are other attractions like seafood restaurants. You can simply relax near to the beach and enjoy its solemn nature.
The Nuance
Tanjung Pendam Beach is located in a strategic area. It is suitable for witnessing a beautiful sunset. The best time to visit is before evening. From the shorelines, you can sit under the tree and enjoy the sunset. It is a perfect ambiance for couples. This romantic nuance becomes a distinct attraction for tourists. Moreover, the sea water is quite calm. It doesn't ruin the atmosphere at all. The sky becomes reddish. In the next few minutes, you are going to be mesmerized by its beauty.
Exploring Tanjung Pendam Beach
The beach has more than a beautiful sunset. For example, there is an amusement park near to the beach. You should bring your family and relax in this park. If you come at the right time, you can enjoy numerous performances as well. Next, tourists are able to witness gorgeous scenery in the horizon. Kalimua Island is visible from the beach. The rumor has it. Such island has the power to eradicate bad lucks. This belief was spread by the Chinese.
Tanjung Pendam Beach also features some galleries. You can visit them easily. These galleries are the home of beautiful handicrafts and paintings. It can be a fun activity aside from the sunset. If you feel hungry, you can visit some restaurants nearby. The most famous choice is the seafood. It is true Belitung is famous for its seafood. That means you should never miss this opportunity. Another famous culinary is Gangan. It is delicious and savory.
After the sunset, it is time to relax. The thing is Tanjung Pendam Beach features live music. The combination of calming music and soothing beach ambiance is indeed perfect. On top of that, you are surrounded by shady pine trees. Isn't this relaxing? There are also many festivals and performances. Make sure you have gathered information regarding the schedules. All of these attractions make a perfect holiday. All visitors will definitely have a good time.
Nearby Attractions

Tanjung Tinggi Beach
Tanjung Kelayang Beach
How to Get There
It is easy to reach Tanjung Pendam Beach. Your first checkpoint is Tanjung Pandan City. From here, you need to go west. The distance is about 4 km. It is either using a motorcycle or a car. One thing, you should visit the beach at the right time. As mentioned earlier, the best attraction is the sunset. It is better to visit the beach before evening. Also, you should not forget your camera and some refreshments.
Where to Stay

Golden Tulip Essential
Grand Hatika Hotel
Harlika Jaya Hotel
Lux Melati Hotel

Latest News
Find the History of Bangka at the Pangkal Pinang Tin MuseumThe Tin Museum was officially opened on August 2, 1997. This museum displays the history of tin mining on Bangka Island which contains historical objects and tin mining dioramas. In addition, visitors can also watch the making of crafts from tin. The best part is that admission to the museum is free. In addition, if you want to find food around Bangka Belitung, there are many places to eat that you can choose from. The dining options available in Bangka-Belitung…
---
Have you ever visited Bangka Island? Bangka Belitung or Bangka Island is a province of Indonesia, which is located on the island of Sumatra. Although not as popular as Bali or Lombok, it has beautiful beaches, white sand, amazing coral reefs, and giant granite rocks. Some of them are rarely visited at all. To experience the untouched splendor of "Island of the Gods" at its best, travel with an experienced local guide, or arrange your own transportation. Enjoy the white sands of Bembang Beach in West BangkaBecause Bangka-Belitung has many…
---
Located in Muntok area in the northwest of the island of Bangka, Mount Menumbing has a height of about 355 meters above sea level. At Mount Menumbing, there is an exile pension of Indonesia's first President Bung Karno and Vice President Bung Hatta by the Dutch during 1948-1949 on the island of Bangka. The exile pension is guarded by the family who is also Abdi Dalem Sultan Palace of Yogyakarta, since generation to generation, where since day one they have responsibility to maintain Bung Karno and Bung Hatta during their…
---
Romodang Beach Romodang beach is located in Belinyu area, north Bangka 77 km from Sungailiat. We can see the very dramatic sunset at noon from this beach and those who like fishing, this is the perfect place to go for it. Moreover, this beach is always visited by those who want to spend time with family and friends for recreational holiday. One of characteristics from this beach is on the stone gate before reaching the beach. Local society call this gate as "Batu Belah Tangkup" or sandwich stone. Another characteristic…
---