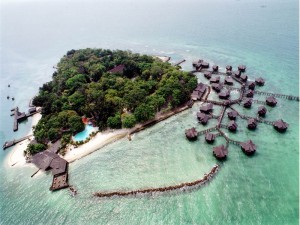 Thousand Islands
Thousand Islands or Kepulauan Seribu is an administrative district in the Special Capital Region of Jakarta, Indonesia. Its area covers the archipelago in the Bay of Jakarta.
Thousand Islands is an archipelago located in the north of Jakarta, directly facing the bay of Jakarta. The number of the island is not exactly 1000 but only about 342 islands, including the sand island and coral reefs. The Sand island and the coral reef itself is around 158. Not all islands which included in the Thousand Islands group are inhabited. Like many other islands in Indonesia, most of the islands in the Thousand Islands are uninhabited. These islands have potential chance for developing various kinds of industries, including mining, for the most important.
The administrative center is located at Scout Island or Pulau Pramuka which begin functioned as the district administration since 2003.
The major inhabitant in Thousand Islands are Muslim and generally come from the tribe of Betawi, Bugis, Banten and Madura.
There are some islands that become the most destination for tourist who want to spend the time and take holidays. Those islands are: Pulau Kahyangan, Pulau Pabelokan, Pulau Bidadari, Pulau Onrust, Pulau Edam, Pulau Kelor, Pulau Rambut, Pulau Anyer, Pulau Puteri, Pulau Matahari, Pulau Sepa, Pulau Pantara Barat dan Pantara Timur, Pulau Bira Besar (Bira Island), Pulau Kotok, Pulau Pelangi, Pulau Papa Theo, Pulau Laki, Pulau Pamagaran, Pulau Sabira, Pulau Saktu and Pulau Penike.
Other islands are sometimes visited for those who want to dive, like: Pulau Kotok
Pulau Papa Theo, Pulau Peniki, Pulau Matahari, Pulau Gosonglaga and Pulau Semak Daun.
Instead of the exotic view that appropriate to be the tourism destination, the flora and fauna in Thousand Islands are marvelous to be found in tropical country. They have exotic flora and fauna like coconut (Cocos nucifera), api api (Avicennia) and mangrove (Rhizophora), plants which are common in Thousand Islands is the coastal plants such as Calophyllum inophyllum (Calophyllum inophyllum), noni (Morinda citrifolia), hibiscus (Hibiscus tiliaceus), pandanus (Pandanus sp.), sea pine (Casuarina equisetifolia), butun (Barringtonia asiatica), bogem (Bruguiera sp.), almond (Terminalia cattapa), defeated (Cerbera odollam), and breadfruit (Artocarpus altilis).
Thousand Islands have two species of sea turtles which are protected; they are hawksbill turtle (Eretmochelys imbricata) and green turtle (Chelonia mydas). Others are lizard (Varanus salvator), Eagle (Haliastur indus), Burung pecuk ular (Anhinga anhinga), roko-roko (Plegadis falcneleus), King of a small blue shrimp (Halcyon chloris), Snake taliwangsa or snake gold ring (Boiga dendrophila) and Python.
And of course, they have many more.
www.Indonesia-Tourism.com