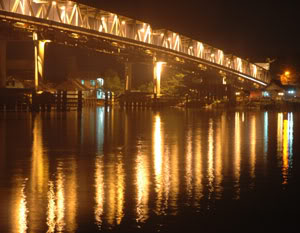 Central Kalimantan
Central Kalimantan or Central Borneo is located in Kalimantan Island with the capital city of Palangkayara.
Along the 17th Century, central Kalimantan inhabitant, Dayak People, was ruled by the Muslim Sultanate of Banjar. After the independence of WW II Dayak People want to separated from South Kalimantan Province and Central Kalimantan become the 17th Province in Indonesia.
Nowadays, there are three major Dayak tribes in Central Borneo, which is Ngaju, Ot Danum and Dusun Ma'anyan Ot Siang. Besides, other ethnics that live on Central Borneo are Javanese, Maduranese, Batak, Toraja, Ambonese, Bugis, Palembang, Minang, Banjarese, Makassar, Papuan, Balinese, Acehnese and also Chinese people.
Central Borneo is such of Rich province, it proves by the ecology among the lands that shows the diversities. Most people are not familiar with the biodiversity in Central Kalimantan, especially on Tanjung Puting National Park. There are various exotic animals like There are bears, porcupines, gibbons, monkeys, proboscis monkey, pangolin, crocodile, lemur, freshwater whales (tampahas), arowana, manjuhan, marine biota, sea turtles, bald, horn bill birds, parrots and other.
Central Borneo has 80% of natural resources on their Forest, which dominated to be a Palm plantation. Rubber and rattan plantation is still spread all over the region instead of other potential natural resources, like coal, gold, zircon, iron. There is also copper, kaolin, stone and others.
Central Borneo is also potential on fishery, it is because they have large area on fresh watery like rivers, lakes, and swamps.
Central Kalimantan is also potential in the field of tourism, especially nature tourism attractions in the form of forests or nature reserves (Bukit Raya and the Monumental Forest) in the East Kotawaringin, Sapat Hawung Hill in North Barito, Merang in Palangkaraya City, nature reserves, land and sea in West Kotawaringin, Malau Besar Great waterfalls and Pauras in North Barito, Tangkiling in Palangkaraya, beautiful beaches and natural in the West Kotawaringin, and Ujung Pandaran in East Kotawaringin.
For more detail:
http://www.indonesia-tourism.com/central-kalimantan/places.html