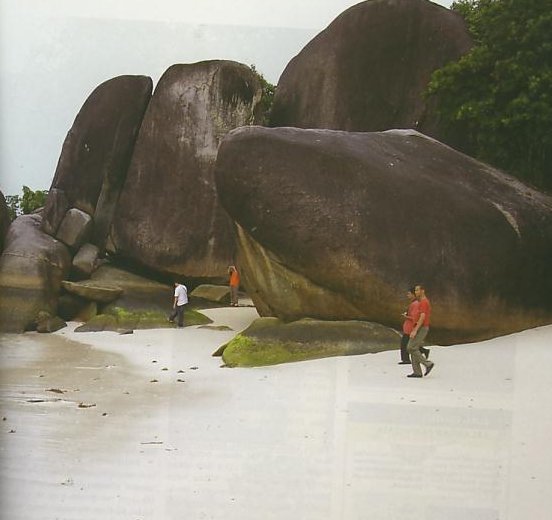 Belitung Island
Belitung, or Belitong, the local language, taken from a species of sea slug, formerly known as Billiton is an island off the east coast of Sumatra, Indonesia, flanked by the Gaspar Strait and Karimata Strait.
This island is famous for its white pepper (Piper sp.) Which in local language called sahang, and mineral-C type minerals such as tin (Stannuum), quartz sand, white clay (kaolin), and granite. Well lately become an alternative tourism destination. Other natural resources that more important to the lives of tBelitung people is tin. Tin mining business has been started since the time of the Dutch East Indies.
Bengkulu island was formerly owned by the United Kingdom in 1812, before finally switched to the Dutch, together with Bengkulu, Singapore and New Amsterdam, which is now part of the city of New York. The main town in Bengkulu is Tanjung Pandan.
Belitung Island is divided into two districts namely Belitung province, the capital is Tanjung Pandan, and East Belitung, its capital is Manggar.
Belitung inhabitant are mainly the Malays, the dialect spoken by Beltung and they are mostly the ancestry of Hokkien and Hakka Tionghoa. There are also sizeable populations of Balinese and Madurese who were settled there in the Suharto era transmigration.
As it mentioned before, Belitung nowadays is become the alternate destination for tourist who want to take travel. Belitung has some exotic destinations that ready to be explored. Blue sea, coral reefs, fine white sand, and giant granite rock formations, that is typical of the beaches on the Belitung island.
On marine tourism, Belitung has Tanjung Kiras beach, Tanjung Pendam beach, Tanjung tinggi, Tanjung Kelayang, Tanjung Binga fisherman village, Panyaeran beach, Tanjung Kubu, Gembira bay and Tanjung Ru.
On nature tourism, Belitung has some destination like Golf Babute driving course, Lengkuas island, Gurok Beraye waterfall, Batu Baginde hill, Tirta Marundang natural pool and Dayang Seri Pinai Pool.
There are still more and more significant things that we can found in Belitung, another paradise to get the sweet escape.
www.Indonesia-Tourism.com