Visiting Sambas City in West Kalimantan Province
---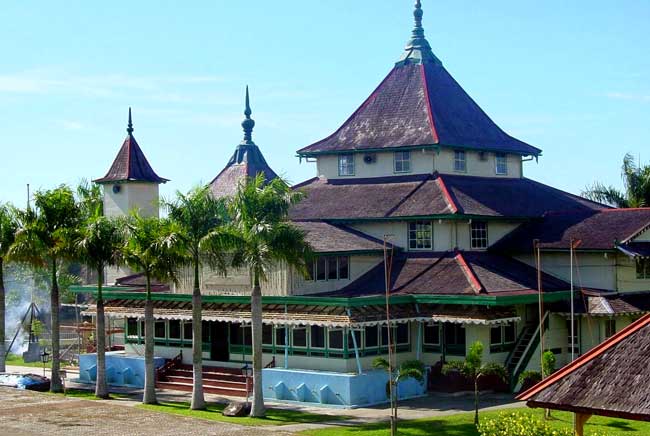 Sambas City is one of West Kalimantan Province's regions. In terms of tourism, it offers mostly natural attractions like beaches and lakes. However, these days, the region is also known for its culinary and culture. That means tourists can get lots of treats there. Even some people come to the city to learn the history regarding the city. What they need is only a good guide who can show the best vacation spots and places to spend the holidays. Another preparation is related to information about local accommodations and facilities. Thus, visitors can rest for a while at a local hotel before exploring the region later. Here is further discussion about it.
The Nuance
For the information, Sambas Regency has a total area of about 640 hectares! The north part is bordering with East Malaysia while the south part is with Singkawang City. In the west, tourists can find several beautiful beaches, as the region is bordering with the Natuna Sea. In terms of landscapes, it varies including highlands and flat terrain. What about local people? Most of them belong to the Malay Tribe. Have no worries. They are friendly, so tourists can approach them easily later.
Exploring Sambas City
The most famous tourist allure in Sambas City is the formation of beaches located in the west part of the region. As for the reference, tourists should visit Selimpai Beach. It is located near the famous Tanjung Belimbing natural conservation area and features a stunning sandy shoreline! People who visit Sambas Regency won't miss the chance to drop by on the beach, after all. Why is that? They want to watch sea turtles that come ashore for laying eggs. This area is also suitable for camping.
The next attractive allure in Sambas Regency is called Sebedang Lake, which offers an exotic and beautiful panorama. The location is surrounded by green hills, so it is suitable for relaxation and spending family recreation. For those who are into history, they can visit Sambas Palace or Keraton Sambas instead. There is also Masjid Sultan Sambas, which is perfect as the background for photography. Thus, everyone should not forget to carry either a digital camera or smartphones when exploring the region later.
The next thing that tourists can enjoy in Sambas City is related to culture. For the information, the word "Sambas" means three nations. These include Chinese, Dayak, and Malay. No wonder, these three are the most dominants in that region. Still, the Malay Tribe has the most population. It is because the location is near a neighboring country Malaysia.
Nearby Attractions

Museum Daerah Sambas
Tanjung Mekar Tourist Site
Sebedang Lake
Keramat Bantelan Petinggi Segerunding
How to Get There
Those who live in West Kalimantan Province can easily visit Sambas City. However, for outsiders, it is recommended to take an airplane in order to reach the region. First, tourists should head to Pontianak City (the capital of West Kalimantan). From Jakarta City (Soekarno – Hatta International Airport), a flight to Supadio Airport may take around 1 hour and 25 minutes. From Pontianak, tourists only need to take Ahmad Yani Street and head to Sambas right away. This trip, during regular traffic, may take around 4 hours and 51 minutes. The distance is 229 km, actually.
Where to Stay

Sambas Terigas Hotel
Sambas Indah Hotel
Pantura Jaya Hotel

Latest News
Indonesia is a country of Bhinneka Tunggal Ika, where there are many provinces inhabited by various ethnic groups. Not only the culture and cuisine are different, the traditional house designs of each province are also different. Traditional house designs have their own philosophy and function. It's no wonder that none of the designs are exactly the same, including the West Kalimantan traditional house belonging to the Dayak tribe named Rumah Radakng. Radakng's house is often also referred to as a long house. This term really describes the state of a…
---
Temajuk marks the point where Indonesia ends and Malaysia starts. Not yet known to many domestic and international travellers, Temajuk Village features a tidal beach with soft, white sands dotted with granite rocks. Underwater sightseeing is made possible as the water is clear. Temajuk beach, actually running at a very long 60 km of coastline, is a tidal coast area featuring soft, white sand and preserved environment. One thing that differs this beach from Balinese beaches is portruding granite rocks distributed evenly throughout the coastal environment. In places, granite rocks…
---
Sinka Island Park Singkawang is a small town in the west Kalimantan, but there are many interesting tourism inside the town. One of popular destinations in Singkawang is Sinka Island Park; there is a zoo which has many kind of animals and a recreational park family vacation and playground for children. Sinka Island Park is located in " kelurahan sedau", " kecamatan Singkawang selatan", around 9 km from Singkawang center. To reach this park, from Singkawang center you can go to there by bus, motorcycle, and our personal vehicle. In…
---
Pontianak Pontianak is officially the capital city of West Kalimantan province, the ethnic of Tionghoa call this city as Khun tien. This city is famous as the City of Equatorial for it passed by the earth zero degrees latitude. The name of Pontianak was belived had something to do with the folk tale about Syarif Abdurrahman which was haunted by the ghost of Kuntilanak when he walked along the 1.1 megameter Kapuas River, which is the longest river in Indonesia. Abdurahman Sharif had fired the cannon to drive away the…
---