Central Java Highlights Trip 6 Days/5 Nights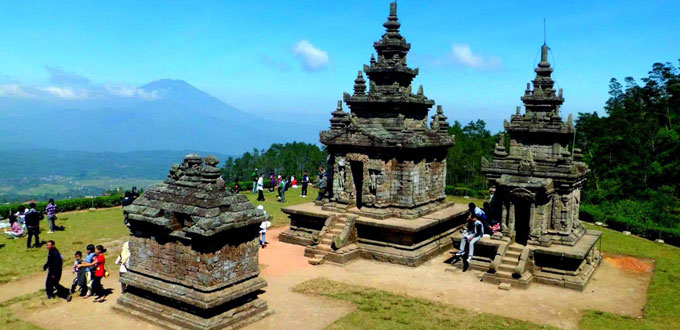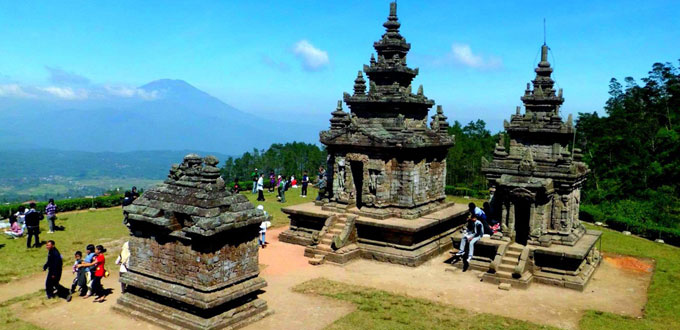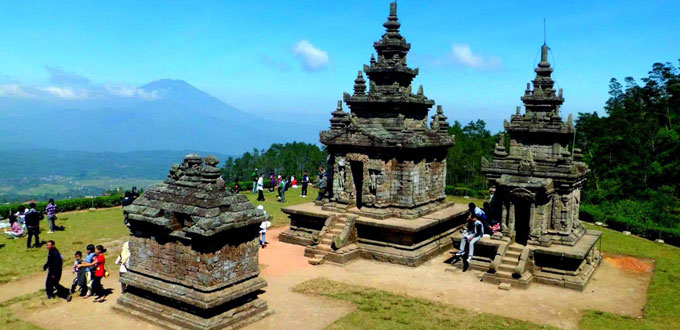 DAY 1 – SEMARANG ARRIVAL – SALATIGA (L)
Arrive at Achmad Yani International Airport in Semarang. Your guide and private car will meet you on arrival at and transfer you to your hotel in Salatiga. Located on the north coast of the island of Java, Semarang is the capital of the province of Central Java. An Important port on the Java Sea since the Dutch colonial era, Semarang, with its 1.5 million inhabitants is now the 7th most populous city in the country. Visit Lawang Sewu, the city's Landmark and a masterpiece of Dutch colonial architecture. The building was built between 1904 and 1907 as former headquarter of the national railway of the Dutch East Indies. Its name in Javanese means Thousands Doors. Lunch in a local restaurant in Semarang. Following your lunch, continue to Salatiga. Upon arrival, check in to your hotel and dinner at leisure. Overnight in Salatiga.
DAY 2 – SALATIGA – GEDONG SONGO – BANARAN – WONOSOBO (B,L)
This morning, drive Bandungan, gateway to the Gedong Songo temples complex located at 1200m on the slope of the Ungaran Mountain. This group of small, 8th-century Hindu temples are amongst the oldest in Java. The best way to reach the complex is on horse back  slowly going up to reach the mountain top for spectacular views and a chance to roam among these ancient monuments. Continue to Banaran Coffee Plantation for a set menu lunch with views over the coffee fields followed with a walking tour of the plantation. Your guide will explain everything you need to know about the quality organic Robusta coffee grown on the property as you walk through the fields. At the coffee shed, you'll witness traditional techniques of roasting and grinding the beans. In the mid-afternoon a 3-hour drive takes you to Wonosobo a small town located 790 meters above sea level and the gateway to the volcanic Dieng Plateau, the "home of the gods". Dinner at leisure and overnight in Wonosobo.
DAY 3 – WONOSOBO – SUNRISE DIENG – TAMBI TEA PLANTATION – BOROBUDUR (B,L)
Wake up and breakfast early before leaving Wonosobo at 04:00 to the volcanic Dieng Plateau, the "home of the gods" which is located at an altitude of 2000m. Upon arrival at Sembungan village in Dieng, you will hike for around 40mins (depends on your fitness condition) up to Mt Sikunir to watch the sunrise. Then, observe the volcanic activity of the Dieng Crater and Kawah Sikidang; and explore the oldest Hindu temples in Java. There are 8 shrines dating from the 7th and 8th centuries which line the crater floor amid sulphurous fumes and rugged natural surroundings.
DAY 4 – SUNRISE BOROBUDUR – CANDIREJO – YOGYAKARTA (B,L)
Depart around 04:30 from your hotel this morning to visit Borobudur for the sunrise. With your guide, explore this massive Buddhist Temple- the largest in the world- and discover the incredible history behind its construction. Comprised of thousands of volcanic and river stone blocks, the temple was assembled entirely by human labour and took more than 75 years to complete. These days, the UNESCO Heritage site is still visible in its full glory- with magnificent carvings and an unusual, yet surprisingly beautiful bulk structure. Return to your hotel for breakfast and rest of the morning at leisure.
Around 12:00, check out from your hotel and proceed to Candirejo village to get a taste for local life with a horse cart ride. Known as a dokar, the local horse cart will take you through this peaceful, charming village. After enjoying a traditional Javanese lunch in the village, you'll travel along small lanes lined with traditional houses and stop to see village activities such as making cassava crackers, playing the gamelan and harvesting and drying of vanilla and chili. Continue with a visit to nearby Mendut Temple. Older than Borobudur, this pyramid-shaped temple houses three impressively carved stone statues. You'll also visit Pawon temple, a simple yet beautiful monument known for its precise symmetry. Proceed to Jogjakarta for check-in at your hotel. Despite the official spelling of 'Yogyakarta' this town is usually pronounced and often written Jogjakarta or simply Yogya. It is the most popular tourist destination on Java, largely thanks to its proximity to the temples of Borobudur and Prambanan. Yogya is a centre of art and education and the cradle of traditional Javanese culture. Dinner this evening is at your leisure. Overnight in Yogyakarta.
DAY 5 – YOGYAKARTA – PRAMBANAN TEMPLE (B,L,D)
Today you will have the chance to learn more about Yogyakarta's historic and cultural traditions with a full-day city tour. Start with a visit to the Sultan's Palace, also known as Kraton. Built between 1756 – 1790, is a fine example of traditional Javanese sultanate architecture. As you walk through the various rooms and chambers, you will learn more about this aspect of Javanese heritage and culture. You'll also visit the adjacent Taman Sari, water palace and garden. This addition to the royal complex was built over 200 years ago by the first Sultan with bathing pools for his harem. Continue this morning's tour with a visit to Sonobudoyo Museum by becak. Focusing on Javanese culture, the museum features exhibits of artefacts such as hand-crafted weapons, wooden wayang puppets, masks and old Javanese gamelan instruments. Lunch at a local restaurant before visiting Prambanan Temple. Following lunch, spend your afternoon exploring the ancient Hindu temples at Prambanan, located 17 kilometres from Yogyakarta. Built in the 9th century, this collection of sharp, jagged temples features three main inner shrines dedicated to the Hindu trinity: Brahma, Vishnu and Shiva. UNESCO named Prambanan a Heritage Site in 1991. Your guide will explain the history and symbolism of the temples as you walk around. Return to Yogyakarta for a chance to relax and freshen-up. This evening, you'll be treated to a performance of traditional Ramayana Dance while dining at a local restaurant. Overnight in Yogyakarta.
DAY 6 – YOGYAKARTA – DEPARTURE (B)
Transfer to Yogyakarta Airport this morning in time for your onward flight or you may choose the optional extension to East Java.
For more information: centraljava@indonesia-tourism.com