The Charming of Toyomerto Waterfall
---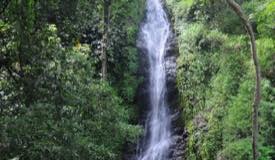 There are many waterfalls in Ponorogo which are still very natural and rarely visited by tourists. If you are on vacation to Telaga Ngebel (lake) you can take your time to visit Toyomerto Waterfall or also known as Selorejo Waterfall.
The location of Selorejo Waterfall is in Toyomerto sub-village, Pupus Village, Ngebel District, Ponorogo Regency, East Java. You can only walk to get to the waterfall and it is quite tiring for those who are not accustomed to walking. Besides quite far, the waterfall also uphill. There are several pine trees and coffee trees along the path.
If you tired, you can rest to freshen your breath or drink and have a seat on a simple wooden chair made by local people. When you reach the waterfall, you will see two signposts nailed to a large tree. Near the signposts, there also a warning board, if it rains heavily, all visitors should immediately leave the location.
Selorejo or Toyomerto Waterfall consists of two levels, but both are still in a single flow from a rock cliff with about 30 meters height. One leads to first waterfall above, and another to second waterfall below. Local people said, this waterfall in between Mount Nglengko and Mount Manyutan. Under Wilis mountain which crossing from Madiun to Ponorogo.
The waterfall originates from a spring on Mount Manyutan. If you traced this waterfall, it will end in Catur River which flows towards Madiun. The first waterfall, bigger than the second. At the first waterfall, visitors can take a bath and feel the freshness of Toyomerto Waterfall. While in the second waterfall, visitors can take a bath from the top of the cliff. It is also best landscape to take some pictures. There are also wooden planks of trees that fall across the waterfall flow.
However, no many visitors come to Toyomerto Waterfall. The reason is the damaged access road to the location makes all visitors reluctant to this place.
To get to Toyomerto waterfall, you must use a private car, about 30 minutes from Telaga Ngebel. Because there will be no public transportation to the waterfall. You have to be careful when riding a motorbike, because most of the roads to the fountain are damaged. In addition, the road to the fountain is winding and uphill with cliffs on the right and left.
But during the trip you will enjoy the cool air and pine forest view. In the middle of the trip you can also take a selfie with Ngebel Lake background.
Upon arrive at Toyomerto sub-village, you will walk about 300 meters to reach the waterfall.

Latest News
Reog Ponorogo Reog is a traditional dance that becomes the main identity from Ponorogo regency. By this traditional culture, Ponorogo is also famous as Reog city. This kind of traditional art dance and theatre has been popular in Indonesian even worldwide. Reog National Festival is being held every years along the anniversary of Ponorogo regency and followed by Grebeg Suro celebration. According to the background of the study, Reog is telling about the struggle of a prince who proposing his lovely pretty princess. This dance is staged about 25 –…
---
Reog Ponorogo Reog is a traditional dance that becomes the main identity from Ponorogo regency. By this traditional culture, Ponorogo is also famous as Reog city. This kind of traditional art dance and theater has been popular in Indonesian even worldwide. Reog National Festival is being held every years along the anniversary of Ponorogo regency and followed by Grebeg Suro celebration. According to the background of the study, Reog is telling about the struggle of a prince who proposing his lovely pretty princess. This dance is staged about 25 –…
---
Grebeg Ponorogo Is the biggest culture event in Ponorogo regency that held on a certain occasion of welcomed Islam New Year or Saka New Year that often known as one suro date (one of Javanese month). This agenda entered East Java tourism calendar (Calendar of event). Grebeg Suro is the ritual culture incident and became the party site of Ponorogo people. Usually it begun a week before 1 Suro. It is the series of Grebeg Suro agenda is Reog National festival, various good activity sorts the race and the exhibition…
---
Reog Ponorogo Reog is a traditional dance that become the main identity for Ponorogo regency. Because of this, Ponorogo is also known as Reog city. This theatre has been known wide in Indonesian even foreign tourists. Reog National Festival is held every years along the anniversary of Ponorogo regency and Grebeg Suro celebration. Reog dance is also staged full moon nightly in paseban, Ponorogo Town Square. Reog told about the struggle for a prince who will propose to a lovely pretty princess . This dance is staged about 25 –…
---