Tirto Waluyojati Pool
---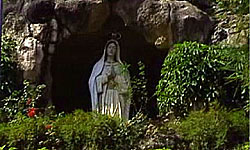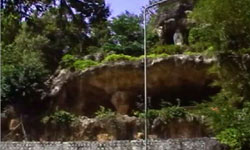 Tirto Waluyojati Pool is located in Klepu village, Sooko district, that is located approximately 30 km next east the Ponorogo city.
This tourism object is one of the pilgrimage places of Catholics in Java island to honour Mother Maria. On May 27 1988 by Mrg. A. J. Dibjakaryana, the Surabaya Bishop declared it named "Sendang Waluyojatiningsih".
As the pilgrimage and praying, Maria Fatimah / Sendang Waluyojatiningsih cave was completed with the Field of Praying place, the road which headed towards the pilgrimage place, Stasi Church, Holly Sacrament Church and Maria Statue from Fatima.
Compared with Maria Lourdes, Puh Sarang cave pilgrimage, the nature in Klepu is very supportive, very beautiful, with the pine forest background, original water pool.
Beside have pilgrimage, the visitor also can go to Ngebel lake that not far from the pilgrimage location.

Latest News
Reog Ponorogo Reog is a traditional dance that becomes the main identity from Ponorogo regency. By this traditional culture, Ponorogo is also famous as Reog city. This kind of traditional art dance and theatre has been popular in Indonesian even worldwide. Reog National Festival is being held every years along the anniversary of Ponorogo regency and followed by Grebeg Suro celebration. According to the background of the study, Reog is telling about the struggle of a prince who proposing his lovely pretty princess. This dance is staged about 25 –…
---
Reog Ponorogo Reog is a traditional dance that becomes the main identity from Ponorogo regency. By this traditional culture, Ponorogo is also famous as Reog city. This kind of traditional art dance and theater has been popular in Indonesian even worldwide. Reog National Festival is being held every years along the anniversary of Ponorogo regency and followed by Grebeg Suro celebration. According to the background of the study, Reog is telling about the struggle of a prince who proposing his lovely pretty princess. This dance is staged about 25 –…
---
Grebeg Ponorogo Is the biggest culture event in Ponorogo regency that held on a certain occasion of welcomed Islam New Year or Saka New Year that often known as one suro date (one of Javanese month). This agenda entered East Java tourism calendar (Calendar of event). Grebeg Suro is the ritual culture incident and became the party site of Ponorogo people. Usually it begun a week before 1 Suro. It is the series of Grebeg Suro agenda is Reog National festival, various good activity sorts the race and the exhibition…
---
Reog Ponorogo Reog is a traditional dance that become the main identity for Ponorogo regency. Because of this, Ponorogo is also known as Reog city. This theatre has been known wide in Indonesian even foreign tourists. Reog National Festival is held every years along the anniversary of Ponorogo regency and Grebeg Suro celebration. Reog dance is also staged full moon nightly in paseban, Ponorogo Town Square. Reog told about the struggle for a prince who will propose to a lovely pretty princess . This dance is staged about 25 –…
---