History of Malang and Identity Regency
---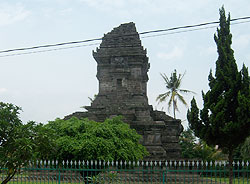 Many years ago, before Malang became the second biggest city in East Java Province, Malang used to be the government center of Kanjuruhan and Singosari Kingdom. Here are some names of places that could support the history of Malang Regency born:

Kanjurahan written in the inscription in 760 AD, now it has changed into Kanjuron (a place near Dinoyo).
Balandit, written in the inscription in 929 AD, now it has changed into Belandit (a place in the Eastern part of Singosari).
Tuyan, written in the inscription in 929 AD, now it has changed into Turen (a place in the Southern part of Malang)
Panawijyan, written in the inscription in 943 AD, now it has changed into Polowijen, the name of a Ward Administrative Unit in Malang Municipality.
Hantang, written in the inscription in 1135 AD, now it has changed into Ngantang (45 km West of Malang).
Katinden, written in the inscription in 1395 AD, now it still uses that name up to the present time (15km North of Malang).
Mandragiri, written in the Javanese History Book "Negara Kertagama ", is the name of a hill that is now known a "Mandaraka", it belongs to Singosari Sub District (7 km North of Malang).
A part from the above references, there are still many other references supporting the history of Malang such as: the name of hills, rivers and archeological remains (temples, stupas, gates, and many others).
Some government center, that used to be here, are:
Kanjuruhan Kingdom, 8th century AD that was centered around Dinoyo now.
Singosari Kingdom, 13th century AD that was centered around Singosari Sub District now.
And here, some other evidence that government centers have ever existed in Malang, they are:
In the following era, Malang Regency still became an important place when the government of Mataram Hindu Kingdom took hold of the area. Therefore, Malang has been the largest regency in East Java Province and since then the development of Malang Regency itself has actually been known since there was a regular government being existed. In this case, we have some reasons to support it,
We found the central government activities along the Brantas river.
We found the other central activities at the other places in Malang.
The growth of Malang Regency population is the result of the historical process, from 8th century up to now.
The day of Malang Regency born was closely connected with the time when the oldest central government was found in Malang.
Upon the above reasons, the birth of Malang Regency was finally discovered and appointed using the following points:
Apple As The Flora Identity of Malang Regency
Apple tree in Indonesia (especially in Malang) began to be known about the year 1908 before the independence of Indonesia being proclamed. The Ducth was the first people who brought, AND REACHED GOOD AREAS FOR APPLE GROWING.
Malang is one of them, and above all it is the most suitable. The first apple variety grown in Malang was Rome Beauty. About 1969, after twenty four years, Indonesian got its independence, the " Banaran Garden Institution" found a new apple variety, namely Manalagi Apple. The man who found it was Mr Surachmat Kusumo, a senior fruit tracker from Balai Penelitian Hortikultura Pasar Minggu (Hortikultura Reseached Institution Pasar Minggu) Jakarta This new variety was from Gandon Village, because this variety was not found in Holland and other parts of the world. so this variety was finally considered as an Indonesian Apple. And because of it nice taste, this apple is named Manalagi (In Javaneses language, "Manalagi" means "give me more "). Specification: Manalagi Apple = Mokus Sylves Tris Mill Color: Skin = Whitish Green or Greenish White Meat = White Taste, sweet good and nice smell.
Suwaru Snake Fruits
Salaca, a special kind of tropical fruit produced at the village of Suwaru for the first time, then popularized around the village and its surrounding, now it has been well-known by the name "Salak Suwaru ".
We can find this fruit not only in Malang, but also in Surabaya, Mojokerto, Kediri, Jember, Gresik, Banyuwangi, and many other cities in East Java. This fruit has a special taste, good aroma (good smell) and, of course, it's very nice. The location of Agribusiness Salaca Group is addressed at Suwaru Village, Gondanglegi Sub District (about 25 km away to the South from Malang), Phone (0341) 879451.
Qualification: AA Class 10 to 12 fruits / kg
AB Class 13 to 15 fruits / kg
CClass 16 to 20 fruits / kg

Latest News
GIt is likely tourists have an unlimited reference of beaches to visit if they come to Malang City. Here is an example. The name is Gatra Beach and it is located in Sitiarjo. In terms of region, it belongs to Sumbermanjing Wetan Sub-District, actually. For the information, the local government manages it well. That means visitors can expect a clean environment once they arrive at the location. Still, it costs some money to pay the entrance fee. Have no worries. There is no fixed price, so visitors can pay it…
---
Sempu Island Sempu Island, is a small island that settled in the south of Java island. The island is administratively located in Malang regency, East Java. Currently, Sempu island os a nature reserve protected by the government. In this island is barely brackish springs founded. Sempu is an island with a beautiful sea lagoon Segara Anakan inside, with turquoise seawater, and white sandy beach. Sempu Island is in Malang region and it takes 3 hours driving to the harbor near the island, Sendang Biru. The visitors can rent a boat…
---
Wonosari Tea Plantation Wonosari Tea Plantation is located on the slopes of Mount Arjuna, Malang regency, East Java. This plantation is located at an altitude between the elevation of 950-1250 with temperatures between 19-26 degrees Celsius. This plantation is managed by PT Perkebunan Nusantara XII (Persero), the state company (BUMN) that running in the field of coffee, cocoa, rubber, tea, and horticulture. Wonosari Tea Plantation is one of a comfortable place to visit because of the mild climate conditions and the natural beauty sightseeing around the field. This agro tourism…
---
Singosari Temple Singosari temple, is also known as Kendedes temple, was founded in honor to the King Kertanegara, who was the last king of Singosari dynasty who died in 1292 AD. This temple was erected in 1300 AD at the same time when the ritual Sradha took place. In the vicinity of the temple there are two gigantic statue called Dwarapala, believed to be the entrance guards to the palace. This temple has saved the historical story that always remember by Malang public. However, Singosari temple is a symbol of…
---