Ijen Boulevard
---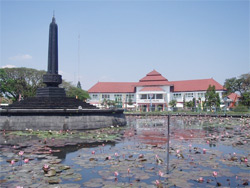 Ijen Boulevard is decorated with Bougenville flowers and Palm trees with the background of old-fashioned-Dutch architecture houses.
Brawijaya Army Museum is also located in this boulevard with its old weapons used in independence war.
Beside that, Immanuel Church and the Public Library also located across the road, it has thousands of literatures.