About Malang City
---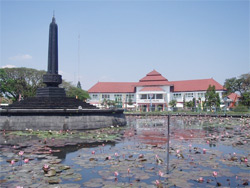 Malang City lies on southwestern part of Indonesia, Java island, on the Brantas River, at the eastern part of Mount Semeru (Gunung Semeru), near Surabaya. Malang is a trade center of agricultural area in which sugar, rice, coffee, tea, corn, peanuts, cassava, and cinchona bark are grown. The city also has railroad workshops, textile, lumber mills, tobacco and soap industries. The city is the site of Brawijaya University (1963). To the northeast and east are the lake resort of Wendit and Hindu Temple ruind at Singosari and Tumpang. Malang was the capital of Malang Residency before independence and an important Dutch military center until 1949.

Malang City was estabilized on 1 April, 1914. Now it has 5 districts and covers an area of 11,005 hectares with the population more than 850.500 in 2004. It is one of Javafinest and most attractive inland city with pleasant mild climate due the fact that the temperature around 22° 24°C.

Passed by Brantas river which splits the city area, this fascinating river also functioned as agriculture irrigation. Malang is the mix of the modern building and old Dutch architecture.

Geologically the south area of the city is a highland, suitable for sub urban and industrial estate and the middle part is the down town, the center of activities.

Supported the growth and development of the city, Malang has a program "Tri Bina Citra Kota malang", Malang as the center of education, industry, and tourism. It is interlaed with the motto "MalangKucecwara", that mean "God destroys the evil and maintains the right".