Bali
---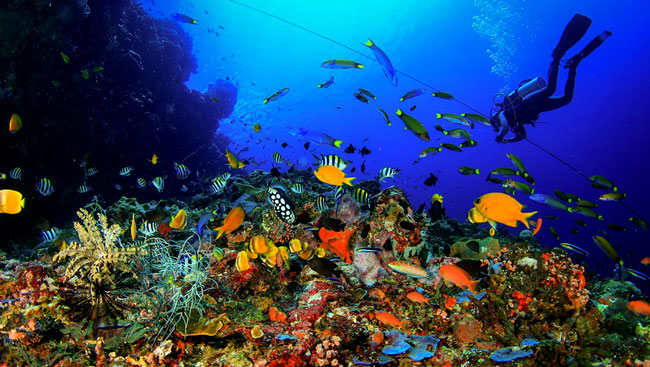 Most people who visit Indonesia in their minds immediately drift to beaches, waterfalls, volcanoes, surfing, or others destination. While all these things are too mainstream to Indonesia, diving should definitely be up there too! With one of the longest coastlines in the world, Indonesia has so many dive sites to choose from. One of those are Bali as well as being the heaven on earth. Bali is also worth exploring for dive action!
In Bali you can explore excellent dive sites and a collection of underwater life. For many years, Bali has been extremely popular with divers. Due to the warm waters around the island. They're abundant with extensive coral reefs and magnificent marine life. It's common to see manta rays, reef sharks, schooling jacks, bumphead parrotfish and great barracuda can be seen in Bali. You can see mola mola season is July to October actually in Nusa Penida, and they can be seen in deeper water at cleaning stations. The more popular dive sites can get quite crowded with divers looking for molas though.
Bali Island is home to some of the best macro diving spots in the world! What's even more, is that it offers incredible variety. Whether you're a beginner or an expert, enjoy shallow reef diving, muck diving, all the way to fun wreck dives. It's literally a scuba diver's paradise! You can see frogfish, many nudibranchs, cuttlefish, stingrays, leaf scorpionfish, pipefish, eels, mantis shrimp, pygmy seahorses, larger seahorses, various octopus, bobbit worms, most of the various info-pacific fish, and the list goes on and on.
Best Dive Sites in Bali Island
Every diver of all levels both beginner or an expert can enjoy the magnificent diving in Bali. For those who loves scuba diving or free diving. The best dive sites for beginners are around Amed, Tulamben, Padang Bay, and Pulau Menjangan which have very light or often no current at all. Bali offers even more opportunities to those advanced divers, with many drift dives such as around Nusa Penida, Nusa Lembongan and Candidasa. The current can sometimes be very strong and several dive sites around Bali should be treated with care and respect.
The best Indonesia diving spots in Bali are USAT Liberty Wreck in Tulamben, Manta Point in Nusa Penida, The Drop Off in Tulamben, The Wall in Amed, Blue Lagoon in Padang Bai, Crystal Bay in Nusa Penida and Malibu Point and Gili Biaha. As you can guess by the names, Manta Point is known for the incredible gathering of the huge rays, while Crystal Bay offers the best visibility in Bali! At Malibu Point, you can dive with the big ones! And the others you'll be swimming with groupers fish and even shark.
To Get There
Flight
Ngurah Rai International Airport of Denpasar is located in South Kuta district and is just 13 kilometres from Denpasar, the capital of Bali. Flights from major international cities regularly fly in and out of the Denpasar Airport. It's also well connected to most of Indonesia and has regular domestic flights connecting it to major cities within the country. From the airport, you can easily hire a taxi to your destination. Currently, you can use buses that available around the airport.
Road
You can take a bus from Jakarta (the capital of Indonesia) to Bali, but only if you can brave the 23-hour bus journey.
Ship
Bali is quite a popular port for most cruise liners traversing through South East Asia. To get into Bali through the sea route, take a flight to Singapore, Sumatra or Java and take a ship for your onward journey to Bali. The information desks at the airport will guide you thoroughly.

Latest News
In the Journal of Nature (a scientific journal of high repute), Mounce et al (2017) revealed, widely that Botanical Gardens around the world have collected at least 105,634 species or equivalent to 30% of all known plant diversity worldwide. However, it was also disclosed that there are an estimated 75% of species that have not been conserved in the tropics. Therefore, the Bogor Botanical Gardens which incidentally located in the tropics and are included in the oldest botanical gardens in Southeast Asia, must be able to answer the conservation challenges…
---
The Bogor Botanical Gardens are the only natural destination in the middle of Bogor city with 87 hectares area. The transportation support capacity is very adequate to access this tourist location. Easy toll access and public transportation access are widely available, which are added values ??for the existence of this tourist location. The existence of the Bogor Botanical Gardens itself cannot be separated from the historical value of the existence of the Dutch in the colonial period, where it is known that the Bogor Botanical Gardens was founded by the…
---
Ranca Upas is one of the tourist destinations in Bandung. Here you can camp while looking at the herd of deer and stunning scenery. Ranca Upas is a tourist spot located in Rancabali District, Bandung Regency, West Java. Ranca Upas is also known as campground, which is a favorite place for nature lovers. At Ranca Upas you can camp in the meadow on a hill of about 1700 meters above sea level. The view in the morning really amazes like being abroad. Moreover, the cool air makes the atmosphere more…
---
Last year, the waterfall or in local language called as 'curug', became a very popular tourist destination for tourists. Its presence in remote areas makes tourists more curious and feels challenged to reach it. Local waterfalls are also crowded because at that time Indonesian citizens were hit by boredom due to the Corona virus pandemic which forced them to cancel their vacation plans. West Java is not only famous for its beautiful beaches and mountains. The area, which is divided into 18 districts and nine cities, also has tourism potential…
---