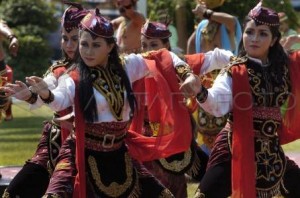 Remong Dance
Remong Dance is a typical of welcome dance, that originating from East Java Province. This dance is represents the dynamic character of East Java people, or Surabaya communities in particular. This dance is symbolize the courage of a prince, that is why, the dancer is always a man, or a female-man look alike.
Remong dance is always followed by Gamelan traditional instruments, which is consist of Bonang, Saron, Gambang, Gender, Slentem, Siter, Seruling, Ketuk, Kenong, Kempul and Gong. The music theme of this dance is using Juli Juli Suroboyoan, or it is typical Surabaya traditional music which is combined with other traditional music.
In addition to be the welcome dance, Remong is also being performed as an opening show of Ludruk theatrical show or East Java Puppet show. This dance was originating performed since 1900s, which was used as a communication way to the people by the Indonesian Nationalist at that time.