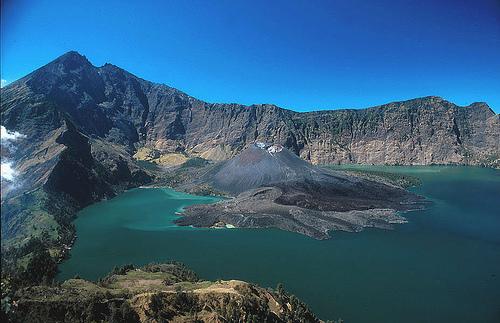 Gunung Rinjani National Park is located on the island of Lombok, Indonesia in the North Lombok Regency. The park covers about 41,330 hectares and consists of mountainous areas. Mount Rinjani (Gunung Rinjani), which is the third highest mountain of Indonesia (3,726 m), is located in this national park, giving this park its name.
Some of endangered plants are protected in this national park, such as: Pterospermum javanicum, Swietenia macrophylla, Ficus superba, Toona sureni, Vanda sp., Usnea sp and Anaphalis sp.
There are also several endangered fauna protected in this national park, including rusa deer, indian muntjac, Sunda Porcupine, surili monkeys, Helmeted Friarbird, several cockatoos and Scaly-crowned Honeyeater.
To reach Mount Rinjani we can take bus from Jakarta to Mataram, after you get to mataram then we continue to Sembalun village, or we can reach Senaru village using local transportation or use the flight from Jakarta, Surabaya and Denpasar towards to the airport Selaparang mataram – Lombok.
Rinjani has best panaroma among the mountains in Indonesia. Each year (June-August), it has been visited by many tourists from local or abroad. The temperatures average about 20 ° C; lowest 12 ° C, and there will be strong winds which are common at the peak in August.
Beside the summit, there is a place that also frequently visited, that is Segara Anakan. This is a lake that located at an altitude of 2,000 m above sea level. To reach this location we can climb from Senaru village or Sembalun Lawang (two nearest entry point at an altitude of 600m asl and 1.150m asl).
www.indonesia-tourism.com