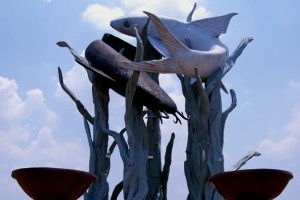 Lamongan
Lamongan regency, located in East Java on Java island. Have border with Java Ocean in North, Gresik Regency in East, Mojokerto and Jombang Regency in South, Bojonegoro and Tuban in West.
Lamongan is one of district which lies on the northern coast of East Java. Some of its coastal areas is in the form of hills. This formation is a continuation of a series from North Kapur Mountains. In the middle area there is plains and undulating, and some is marshy ground. In the south there are mountains, which is the eastern part of Mountain Kendeng. Bengawan Solo is flowing in the north.
Agriculture is the dominant economic sector in Lamongan. At coastal region is an area of fishermen and fish pond. Lamongan is also a part of East Java economic development of Gerbangkertosusila, which is the acronym of Gresik, Bangkalan, Mojokerto, Surabaya, Sidoarjo, Lamongan.
Lamongan contributes many things on food, which is spread all over Indonesia. Like Soto Lamongan, Tahu Campur Lamongan and Wingko Babat. All of those are Indonesian traditional food which particularly come from Lamongan.
Lamongan also has numbers of destination that interesting to be visit like the cave, recreational park, religious site and many more.
Written By
http://www.indonesia-tourism.com/east-java/lamongan.html
More for tourism
http://www.eastjava.com/tourism/lamongan/