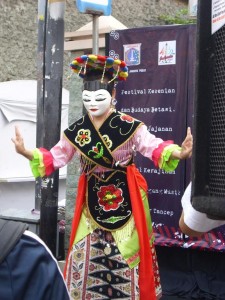 Betawi Mask Dance
Jakarta native community or better known as Batawi people has a lot of traditional art, one of which is the Betawi mask. Betawi mask has at least three main elements: music, dance, and theater. The dance in this traditional art then so called as Betawi Mask Dance.
Why using a "mask"? This is because Betawi people think that the mask is having magical powers. In addition to refuse reinforcements, it was also considered capable of removing sorrow because of death, illness, or any other disaster.
Betawi mask can be interpreted in the form of theatrical performances that contain aspects of dance, singing, narration with dialogue and monologue. The dancers use a mask similar to masks West Java Karawang Mask dance, but in terms of different languages.
Betawi mask dance is being performed at the important occasion according to Betawi People, which is wedding day and circumcision day for the boy. By inviting the talent show of Betawi mask dance is quite expensive, but they do afford this hardly to celebrate the moment. On the other hand, by presenting Betawi mask dance for the guess of honor, it will raise the social level of the host.