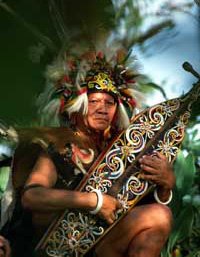 East Kalimantan
East Borneo is the second largest province in Kalimantan. This province is ao rich with its natural resources that coming from two main cities of Samarinda, which is the capital and the center of timber product, and Balikpapan as a petroleum center with oil refinery. Since Indonesia start the mineral and natural resources for foreign investment in 1970s, East Borneo become the center area for those exotic forest products like timber and petroleum. Moreover, the existence of Pertamina as an oil refinery company from the Royal Dutch Shell company in 1965 make East Borneo become rich province in Kalimantan Island.
At early begin, this province was the location of the eldest Hindu Kingdom of Kutai. The popular history remain about Kutai is about the ancient manuscript of Pallava which is written on Sanskrit language.
East Borneo has several ethnic people that live in. Most people acknowledge that Dayak people is the main ethnic, but there is also one important ethnic that have an important role since the history remain, that is Kutai People. Kutai people is the East Borneo indigenous that occupied the coastal region of East Kalimantan since earlier. Besides, other ethnics that live in East Kalimantan are Bugis, Javanese and Makassar. Bugis and Javanese language is the second main language that being used by the local inhabitant. Most of Bugis people stay in Kalimantan, Samarinda, Sangatta and Bontang. While Javanese mostly stay at Samarinda and Balikpapan.
East Kalimantan is mostly depends on earth resources activity such as oilfield exploration, natural gas, as well as coal and gold mining. Those are the main sector for their economic field. However, the agriculture and tourism object is also become the addition for their commodity. East Kalimantan has several tourist destination such as Derawan Islands in Berau Regency, Kayan Mentarang National Park ini Nunukan, Crocodile Husbandry in Balikpapan, deer husbandry in Penajam, Dayak's (native Kalimantan people) Pampang Village in Samarinda and many others.
Written by
http://www.indonesia-tourism.com/east-kalimantan/places.html