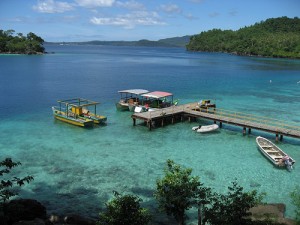 Weh Island
Weh Island or Pulau Weh or Pulo Weh or just known as Sabang, which is the largest city in the same area. Weh is a small active volcanic island to the northwest of Sumatra. It was originally connected to the Sumatran mainland and became separated by sea after the volcano's last eruption in the Pleistocene era.The island is situated in the Andaman Sea.
The island is known for its ecosystem; the Indonesian government has declared 60 square kilometres (23 sq mi) of inland and sea around the island as a wildlife protection area. A rare megamouth shark species was found on shore and the island is the only habitat for the threatened toad, Bufo valhallae (genus Bufo). Coral reef areas around the island are known for their large variety of fish species.
Pulau Weh is shaped roughly like a horseshoe. On the northeastern leg is the port town of Sabang, where most of Weh's population lives. The primary tourist beaches are Gapang and Iboih, which are about 20km away heading towards the northwestern leg.
It's always a little rainy on Weh, with two monsoon seasons. November to January are the wettest, coolest months but are also the best times to see whale sharks.
The beaches around the island are lined with a wonderful mixture of tall palms and massive hardwood trees. Crystal clear waters surround the island and are filled with beautiful coral gardens. Pulau Weh hosts an incredible range of marine life with more than 600 species of fish, making the island a nature lovers dream location.
Pulau Weh Is a truly breathtaking example of a tropical island paradise. Unquestionably an island with outstanding natural beauty, it hosts a range of stunning sceneries both above and below the ocean.