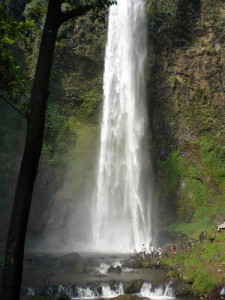 Cimahi
Cimahi is one of cities in West Java, located in west side area of Bandung. It was formerly the part area of Bandung city, but finally decided to be the administrative city since 29 January 1976.
Cimahi became known when in 1811, the Governor-General Herman Willem Daendels made a way of Anyer-Panarukan, with the checkpoints was made at Cimahi townsquare now.
In year 1874-1893, it was conducted a railway station of Bandung- Cianjur, while at the same time there was also the of making Cimahi station.
In 1886, built military education centers and other facilities such as Dustira hospital and home military custody. In 1935, Cimahi was designated as a district. Cimahi now become one of the growth areas in the west of Bandung.
Cimahi is also famous as a "Military City" because there are so many educational center for army in this city, like Military Teacher Education Center, Coach Infantry School, Infantry Education Center, Military police education center, and maby more. With so many military education centers and other military facilities, there is approximately 60% of the territory Cimahi used by the military.
Cimahi has some attractive potential tourism object that worth to be visit, the green nature beauty is become the particular thing that have been looked for by the visitors. For instance, Alam Wisata Cimahi, All About Strawberry, Paku Haji Horse Tourism, Curug Cimahi and any other curugs or waterfalls and Cipageran Swimming Pool.