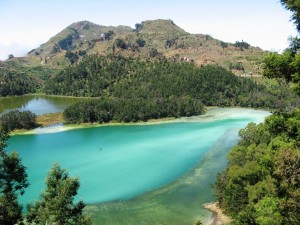 Banjarnegara
Banjarnegara is a regency and the capital of the same city, located in the southwestern part of Central Java. It is 55km from the Dieng Plateau region and a centre for ceramic arts.
This regency is bounded to Pekalongan regency and Batang regency in North, Wonosobo regency in East, Kebumen in South and Banyumas and Purbalingga in the West.
Geographically, this regency is divided into 3 parts of landscape, which is:
North Zone, is a mountainous region that is part of the Dieng Plateau, North Serayu Mountains. This area has a steep and bumpy relief.
Central Zone, is Serayu Depression zone which is quite fertile.
South Zone, is part of Serayu Mountains, and here is such a steep relief mountainous area.
Banjarnegara is famous by its culinary like Dawet Ayu, it is kind of traditional beverage which has sweet and milky taste, tempe mendoan; is kind of a very thin soy bean cake, combro, apem madukara; it is like traditional pancake, and many more.
The most natural destination that have been visited in Banjarnegara is Dieng Plateu. This tourism destination is the most potential and dominant in Banjarnegara. Some people thought that Dieng Plateu is located in Wonosobo, which is true, but the most areas are located in Banjarnegara. Located about 58 km from the center of Banjarnegara, this area can be reached about 1 hour trip by motorcycle.
Dieng is an area that rich by historical relics, ancient relics and an outstanding natural scenery, like Arjuna temple complex. This complex is consist of five temples in a row from north to south. Other temple after Arjuna temple is, Bima temple, Gatot kaca temple and Dwarawati temple The air is also fresh and calm because it located 2000 meters above sea levels.
Moreover, there is also some famous crater that worth to be visited like Sikidang crater and Sileri crater. Other destinations are, wells Jalatunda, Telaga Merdada dan Telaga Balekambang, Kaliasa museum, Curug Pitu or seven waterfalls. Others are attractions like the dances, the ceremonies, or everything on Banjarnegara is interesting to be explored.