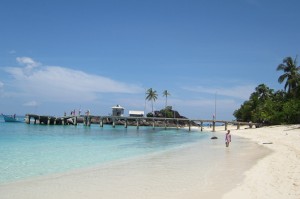 Senua Island
Senua or Senoa is an outermost island, that located in South China ocean that has bordered with east Malaysia (north Kalimantan). This island is administratively part of Natuna regency, Riau Islands province.
Senua island is located at the tip of East Bunguran Senubing cape, Natuna. The word of Senubing is taken from the local language, which means pregnant. Urban legend said that this island wan an incarnation of the pregnant lady named Mai Lamah. In fact, this island is shaped like pregnant belly. Senua island is famous for its scenic beaches of white quartz sand and near to from the village Sepempang, Ranai, Natuna regency.
The distance from the Sepempang village to the Senua island is close enough, it only takes 15 minutes by hiring fisherman's Pompong boat. Unfortunately, it costly, for it takes Rp. 300,000 for the round trip. Along the way to Senua island, you will be pampered by the exotic views of the crystal clear sea water and beautiful coral reefs. Moreover, the view of Ranai Mountain is also magnificent to be visited.
Other attraction in Senua island is coming from the swallow cave that directly overlooking to the seafront, which surrounded by steep rock. At the peak of the cave, we can see the magnificent view of Mount Ranai, Stone Sind, and Cape Coast. Senua Island will be crowded visited during holidays. Do not forget to bring the importance during vacation, for Senua Island is an uninhabited island.
www.indonesia-tourism.com