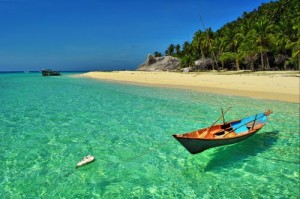 Semiun Island
Semiun Island is an outermost Indonesia's island that located in the Natuna sea or part of the South China Sea, bordering with Malaysia and Vietnam. Semiun Island is a territory of Payang Village, Natuna regency, Riau Islands province.
The island is formed in hilly shaped and on the side of the island there is a lighthouse. The island is an uninhabited island and only occupied by the lighthouse keeper. To reach Semiun island is quite difficult because there are no boats or ships that regularly sail to the island. The island is accessible by boat or a fishing boat from the island, which actually takes about 2 hours and 15 minutes by boat with an average speed of 5-7 knots.
The topography in Semiun island is a hill with steep rugged beaches. The depth of the waters around the island are 1-5 meters and its depth increases with increasing distance from the island, to a depth of over 10 meters.
www.indonesia-tourism.com