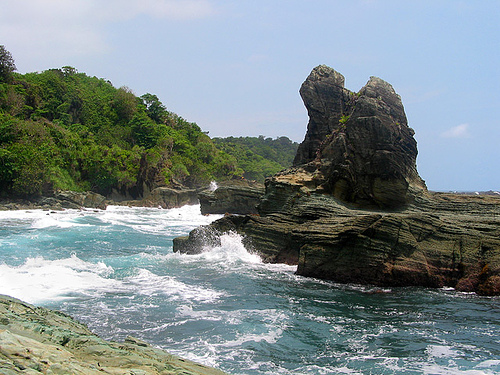 Nusa Kambangan Island
Nusa Kambangan is an island in Central Java and it famous as the safeties penitentiary in Indonesia. This island is administratively located in Cilacap regency and it becomes one of the outermost islands in Indonesia. To reach this island, people have to crossing the island by using ferry from special port that ran by Indonesia Justice Department, which located in Sodong Port, Cilacap for about 5 minutes and it has to wait in Wijayapura ferry port in Cilacap. This special cross will drove directly by the officer of the penitentiary. This special cross is also used for the prisoner transfer or being used as transportation for the prisoners' family.
Kambangan Island, which stated as a nature reserve, in addition to commonly used for military training, is also being the habitat for rare trees, but many have been felled illegally. Today the remaining are mostly about herbaceous plant, palm, and shrubs. There is also Plahlar Wood (Dipterocarpus litoralis) that can only be found on this island, which oftentimes been stolen to be dried, for it has the same quality to meranti wood from Borneo.
Traditionally, the successor to the Sultanate of Mataram dynasty oftenly performed rituals on this island and made it a "jungle ritual". In the western part of the island, there is a cave that located in the mangrove forest, it lies a kind of VOC relic. inscriptions..
At the east end, on top of the cliff, standing a Cimiring lighthouse and there is small fort by Portuguese heritage. A wide range of plants typical Javanese ritual are planted here. Nusa Kambangan recorded as the last defense of the the genuine Wijayakusuma plant. Hence, it derived the name of the island: Nusa Kembangan, which means "island of flowers".
The term "Nusakambangan Prison" is a sense of confusion in the general public. Due to the fact that none of the existing name of the prison here. Originally, there were nine jail in the penitentiary (for prisoners and political prisoners), but now there are only four prison jail, namely Batu Prison (built 1925), LP Besi (built 1929), LP Kembang Kuning (1950), and LP Permisan (the oldest one, established 1908). The other five, namely Nirbaya prison, Karang Tengah, Limus Buntu, Karang Anyar, and Gleger, has been closed.
The inhabitants of the island are only the inmates and prison employees and their families, under the supervision of the Ministry of Justice and Local Government of Cilacap. The in and out of the island must have a special permit with certain procedures. The employees' children in elementary school are available in the island. To continue to the advanced level (junior high, high school, or college), they must attend school in Cilacap or other cities in Java.
The western side of the island is can still be enjoyed by visitors without having to ask permission to the legal department. While the east side of the island is still guarded and must have permission to enter the most feared prison area in Indonesia.
www.indonesia-tourism.com