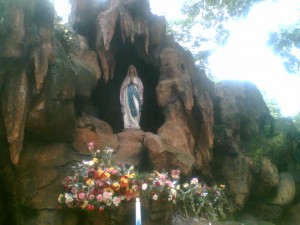 Kuningan
Kuningan is a small town and one of regencies in West Java Province. This regency is located in the eastern part of West Java, have borders with Cirebon regency in the north, Brebes (Central Java) in the east, Ciamis regency in the south, and Majalengka in the west. Kuningan regency consists of 32 districts, divided again over some 361 villages and 15 wards. The central government is in Kuningan District.
The eastern part of this regency is lowland, while in the western part is mountainous, with the peaks is Mount Ceremai (3076 m).
Dated back to the early history, before becoming a town or regency, Kuningan was face some phases in time line relating the situation, the people and the way of living.
The first phase was in pre-historic, it was estimated around 3,500 years BC there were already human life in Kuningan area, this was based on some relics on prehistoric life in the era that show the existence of life in the days of Neoliticum and big stones which were the cultural heritage of Megaliticum.
Those evidences like the relics can be found at Kampung Cipari, Cigugur district which was found on pre-historic relics in 1972, in the form of obsidian tools (stone kendan), potteries, stone tombs, stone equipment and ceramic vessel.
The second phase was in Hindu time, in Parahyangan story it mentioned that there was a settlement that had political power as well as a state, called Kuningan. The first king was Seuweukarma which had tittle of Rahiyang Tangkuku. Furthermore, the developments of Kuningan kingdom reappeared in 1175 AD. Kuninganat that time embraced Hindu religion under the leadership of Rakean Darmariksa and it was an autonomous region under Sunda kingdom known by the name of Pajajaran. The last phase was the entrance of Islam into Kuningan.
There are lots of destinations in Kuningan that worth to be visited, those destinations are divided into some categories like:
In Natural tourism, it has, Talaga Remis, Linggarjati natural park, Darma dam, Sangkanhurip, Sitonjul village, Sidomba waterfall, Cilengkrang waterfall, Palutungan & Putri waterfall, and Ngelay waterfall.
In cultural tourism, there is Linggarjati and Cipari archaeological park.
Kuningan also has forest tourism objects like, Setianegara and Jabranti village.
On pilgrimage tourism it has Cibulan, Goa Maria and Balong keramat darmaloka.