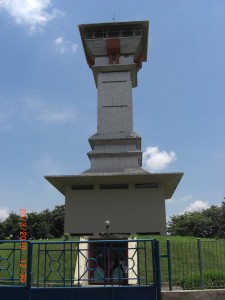 Kudus
Kudus is a regency in Central Java, located 51Km to the east of Semarang. This regency is bounded with Pati regency in east, Grobogan regency and Demak regency in south, and Jepara regency in west.
Kudus is the smallest regency in Central Java with a total area reaches 42,516 hectares which is divided into 9 sub-districts.
The city of Kudus was something of an important Islamic holy city in the sixteenth century. Nowadays, Kudus also famous with 'Kota Santri' or the city of Islamic Students. Sunan Kudus, was one of the nine Wali Sanga, said to have been the fifth imam (head) of the mosque of Demak and a major leader of the 1527 campaign against 'Majapahit', before moving to Kudus. The Mosque of Kudus (Masjid Menara) which dates from this period, remains a local landmark to this day.
Kudus is known as the city's largest cigarette producer in Central Java. The economic developments in Kudus is not separated from the influence industry that stand on Kudus. Some large industrial companies in Kudus is PT. Djarum, PT. Petra, PR. Breadfruit, PT. Nojorono. PT.Hartono Electronic Palace (Polytron), PT. Pura, PT. Kudos, and thousands of small and medium industrial enterprises.
In tourism, Kudus has somethings in particular that worth to be explore, both in religious site and historical site. For instance:
Religious and cultural tourism:
* Minaret Mosque which was built in the 16th century, this building has a blend of Javanese architecture, Hinduism, and Islam.
* Tomb of Sunan Kudus, one wali sanga (spreaders of Islam in the land of Java)
* Tomb of Sunan Muria (in the District Colo Dawe). Also one of walisanga
Natural attractions:
* Monthel Waterfall in Colo. district Dawe.
* Songolikur Peak (in Rahtawu Gebog district) the highest peak of Mount Muria.
* Other Mount Muria peak that frequently visited, such as Peak Argojembangan and Argowiloso. Both are located in sub-Dawe.
* Three Flavor Water (Rejenu) and the tomb of Sheikh Sadzili. Located in Japan, Dawe district.
* Pesanggrahan Colo.
* Abiyoso Campgrounds in Menawan, Gebog sb-district.
* Kajar Campgrounds