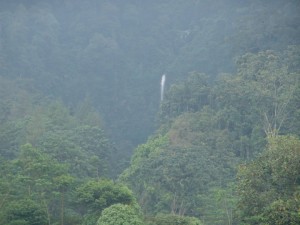 Purwakarta
Purwakarta, is a regency in West Java province. Situated ± 80 km east of Jakarta. This regency is bordered by the Karawang regency in West and parts of North, Subang district in the north and some eastern regions, in the southern part of Bandung Regency, and Cianjur districts in the Southwest.
Purwakarta Regency located at the intersection of three major traffic corridors which are very strategic, that is Purwakarta-Jakarta, Purwakarta-Bandung and Purwakarta-Cirebon.
Purwakarta comes the word "purwa" which means the beginning and "karta" which means lively or alive. The changing name of Purwakarta was done after the moving capital of Purwakarta Regency from Wanayasa to Sindang Kasih. The annual event to celebrate the moving capital is held every July 20 by commemorated the journey from Wanayasa to Sindang Kasih.
The existence of Purwakarta was inseparable from the history of the struggle against the VOC forces. Around the beginning of the 17th century Sultan of Mataram sent an army led by the Regent of Surabaya to West Java, to conquer the Sultan of Banten. Karawang government was ended around the year 1811-1816 as a result of switching control of the Dutch East Indies from the Dutch Government to the British Government. After the Dutch colonialism, Karawang regency with the capital of Purwakarta, it was runs until the year of 1949.
Purwakarta, beside having some historical background, it also has some potential destinations that worth to be explored as tourism objects. Purwakarta has divine the tourism objects based on the category, for instance the cultural heritages, the pilgrimage destination and natural tourisms.
Jatiluhur Dam, Cirata lake, Wanayasa Dam, Ciracas hot spring, Cipurut waterfall, Parang mountain, Japan Cave, Bojong village tour, Buleud dam is destination for natural objects.
Other destinations can be found in Songket fabric industrial, Baing Yusuf grave yard for pilgrimage tourism, the exotic Cijalu waterfall, and many more.
More info visit
www.Indonesia-Tourism.com