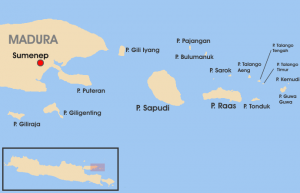 Gua-Gua Island, Raas
Gua-gua is a village and an island in Raas area, Sumenep regency, Madura, East Java. Gua-gua is a small island in a group of islands in the east side of Madura island, and it located in the east side Raas island.
The inhabitants that live in this island are being called as Gung Pangola, who are also the heredity of H.Ibrahim or Ilyas, the ancestor person of this island in ancient time. The local people are give him and his contributions good respect.
www.indonesia-tourism.com