Surabaya is gaining popularity to become a hot spot for people to travel, hang out, or as a hub to explore East Java. The local vibe meets modern and urban lifestyle make the city really unique.
If you're reside in Surabaya for a few short days, maybe spent time on Sunday, be it for leisure or travel, here are the things you can do in a short weekend by just driving. No need too much time!

House of Sampoerna
Located in "old Surabaya", House of Sampoerna was being used as Sampoerna's first major cigarette production facility. This Dutch colonial-style compound is still functioning until today as a production plant for Indonesia's most prestigious cigarette' Dji Sam Soe. The central complex has been restored and is now open to public. The original central auditorium is now a museum and a shop. The east side has been transformed into a unique structure containing a café and an art gallery.
House of Sampoerna also provides Surabaya Heritage Track where you can have a tour around North Surabaya by bus. You can enjoy and get to know the buildings and history of Surabaya, learn the rich culture of the city, and obtain information about other interesting places to visit in Surabaya.
Taman Sampoerna No.6, Krembangan Utara, Pabean Cantian, Surabaya, Jawa Timur 60163
Phone: (031) 3539000
Opening hours: 9 AM – 6 PM

Surabaya North Quay
Located on the second floor of Gapura Surya Harbor, here you can see international luxury cruise ships being docked while enjoying the beautiful view of the sea. The view is way more beautiful at noon, while the sun is setting down and the lights around the quay start turning. Definitely gives a really romantic atmosphere and perfect for a dinner date spot. Here, you can also watch live music, art attractions, local product exhibition, and local culinary shops.
Perak Utara, Pabean Cantian, Surabaya, Jawa Timur 60165
Opening hours: 11 AM – 8 PM

Mangrove Forest
If you're a fan of eco-friendly tour, this could be the best spot to spend your weekend in Surabaya. The 200 hectare area is part of Surabaya government's attempt to reduce the abrasion in Surabaya East Coast. But, this place is also open for public, used as educational spot and travel spot. Not only enjoying the beauty of mangrove tress, here you can also see more than 30 animal species, such as long tail monkey.
Jalan Raya Wonorejo No.1, Wonorejo, Rungkut, Surabaya, Jawa Timur 60296
Opening hours: 8 AM – 4 PM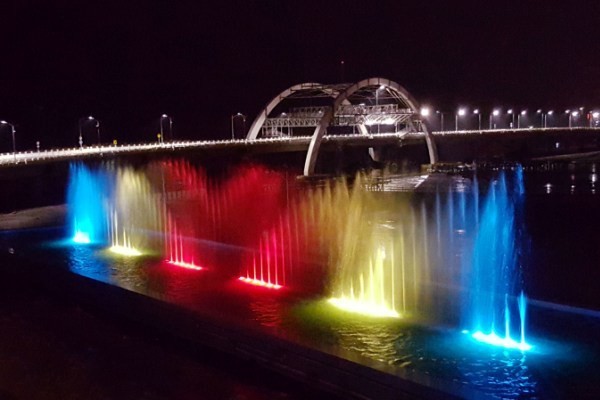 Dancing Fountain
One of the recent popular sights in Surabaya is Dancing Fountain of Kenjeran Bridge. This colorful fountain was built to make the area around the bridge looks prettier so people interested to spend their time there. Dancing fountain is only available on Saturday for one hour, from 8 PM till 9 PM. After watching the dancing fountain, you can continue enjoying the sight of Surabaya city night life while eating the local food there.
Ready to go to Surabaya now?
Credits to http://www.whatsnewjakarta.com/surabaya-weekend-guide/