The East Java's Calendar of Events 2012 contains the schedule of some traditional ceremonies, traditions, festivals and performances which held in the cities and the regencies in East Java. It is designed to promote and to publicize the tourism agenda in the whole area in East Java.
It is important to inform that the local communities usually determine the schedules of the ceremonial events by using the calendars of Javanese, Moslem, and Hindu Tenggerese. Therefore, to assure the exact date of the events, it is advisable to confirm the local Government Tourist Offices.
We hope the East Java's Calendar of Events 2012 will be helpful and useful for visitors and travelers.
June Tourism Calendar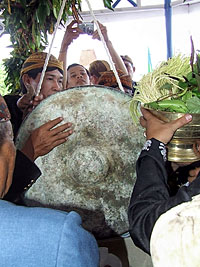 June 1
Grebeg PANCASILA
Grebeg Pancasila is a cultural ceremony in commemoration of the birth of Pancasila, which is designed as a cultural event held by the City Government of Blitar
Location: brothers and sisters, and the Tomb of Bung Karno Blitar City
June 8
Sarangan Festival / Labuh Sesaji
This is an annual event that always been held by Sarangan people. They start to clean the village and having an offering as gratitude symbol to God.
Location: Sarangan Tourism Object, Magetan.
June 20
Bung Karno's Haul
Bung Karno's Haul or the death commemoration of Soekarno is always been held since July 21, 1970. The event includes: Pilgrimage Culture, reading Koran, Interfaith Prayer, Reading of Yasin and Tahlil and gathering in are held in Gebang Palace or Ndalem Gebang which is the residence of Bung Karno's parents.
This palace is located on Jl. Sultan Agung 69, Blitar. The main event of this celebration is praying together at Bung Karno Library amphitheater, followed by flowering on the Tomb of Bung Karno on the next day on 21 June.
Location: Dalem Gebang, Amphitheater Library and the Tomb of Bung Karno, Blitar City
June or November
SURABAYA ARTS FESTIVAL / FESTIVAL SENI SURABAYA (FSS)
Arts activities undertaken by the Arts Council in cooperation with Surabaya Surabaya City Government, followed by artists from various regions in Indonesia and invitations from abroad with a variety of arts disciplines (music, painting, theater, etc.).
Location: City of Surabaya
June
NYADRAN BALONG DOWO
This is the ceremony of thanksgiving to Almighty God for the safety to the fishermen during their fishing time for Kupang. Kupang is typical of very small shell and becomes the main ingredient of Kupang Lontong traditional food.
Location: Balong Dowo Village, Candi district, Sidoarjo
June-July
TOURISM AND CULTURE WEEK
Is an annual event that is packed in the performing arts, and begins with the appearance of colossal drama (folklore banner), continued with cultural parade featuring a variety of local arts. This parade, is participated and supported by the Ambassador of art and culture from Kediri city
Location: Home Office and the Simpang Lima Regency Gumul Kediri
SCHOOL HOLIDAY ATTRACTIONS
This event is held to celebrate the holiday season for students. There will be numbers of activities that for students spend the time during holiday.
Location: Sarangan Tourism Object, Magetan
June
PERMATA / PERKEMAHAN AKHIR TAHUN AJARAN or End Year Camp
This annual End Year Camp is always held every year by all Moslem students in Pondok Pesantren GadingMangu. The participants are coming from all over the area in Indonesia. It can reach 1500, and it can be visited by 25000 people. This camp is include of preaching, bazar, performing art, social gathering, out bound and more.
This camp had attended by the Minister, Brawijaya Commander, the Governor and Deputy Governor of East Java, the Regent and Vice Regent Jombang, and Religious Leaders / Community Leader.
Location: Kosambiwojo Campgrounds, Wonosalam, Jombang
THE ELECTION OF PASURUAN TOURISM AMBASSADOR 2012
This election of Ambassador Travel is a routine  activity of Pasuruan Culture and Tourism that being held every two years. This activity is having purpose of selecting the Pasuruan Ambassador Travel
Location: Pasuruan city.
EAST JAVA FOOD FESTIVAL
East Java has numbers of traditional foods that already famous outside the area. To introduce those foods, there is festival that particularly shown the delicious food and beverages.
East Java Food Festival is being held annually and followed by participants from hotel and restaurant di East Java.
Location: Surabaya.