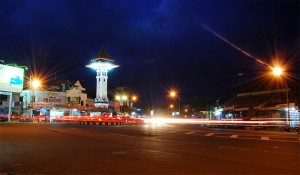 Boyolali
Boyolali, is one of regencies in Central Java with the capital of the same city. Located in 25 Km on western Surakarta. This regency is bounded with Grobogan regency in north, Sragen regency, Karanganyar regency and Surakarta in east. Klaten regency in south, Magelang regency and Semarang regency in west.
Boyolali is known as the city of milk, because it is one of the largest centers of fresh cow milk producer in Central Java. The dairy cattle are generally located in the south and highland cold valve, because the dairy cows that are currently being developed is coming from the sub-tropic Australia and New Zealand. In addition, in the area of Ampel district, there is also the industrial centers of Dendeng and Abon.
Boyolali located at the east foothill of Mount Merapi and Mount Merbabu which has very beautiful and charming scenery, the spacious greens and hilly around the volcanic activity of Merapi become enchanted the sightseeing.
Beside the panoramic views of Mount Merapi and Merbabu, Boyolali also has tourist attractions in the form of a natural spring that flows continuously and it is very clear that well managed into the water attractions, swimming pool, fishing pond and restaurants like the Tlatar (about 7 km north Boyolali city) and in District Pengging Banyudono (about 10 km east of the town of Boyolali).
Moreover, there are more in tourism destinations that worth to be visited in Boyolali, like, Cengklik reservoir, Pracimoharjo site, Kedung Kayang waterfall, Ki Ageng Pantaran graveyard, Kedung Ombo marine tourism, Tugel mountain, Ki Ageng singoprono graveyard, Samiran tourism village, Tlatar tourism object, Ki Hajar Saloka graveyard, Kebo Kanigoro ancient site and many more.