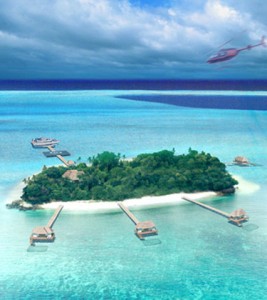 Bintan Island
Bintan Island is one of islands in the Riau Islands province, where there is a city of Tanjung Pinang ad the provincial capital of Riau. The island has two Governments, the Tanjungpinang City governmental is located in Senggarang and Tanjungpinang, while Bintan governmental is located in Bandar Seri Bintan. Bintan island is nearest island to the state of Singapore.
Bintan island is also popular as Negeri Segantang Lada, at 3rd century the island flourished as a trading post on the route between China and India, and over the centuries it came under the control of the Chinese, the British, and then the Dutch when it was declared part of the Dutch East Indies through the Anglo-Dutch Treaty of 1824. In the 12th century, the Bintan island in the Strait of Malacca was known as the "Pirate Island" since the Malay pirates used to loot trading ships sailing in these waters.
Bintan, is the largest among the 3,200 islands of Riau Archipelago and is located 10 kilometres (6.2 mi) east of the Batam Island. It has a coast line of 105 kilometres (65 mi) and has rolling topography in its landform. The Indonesian sea route through the Bintan straits has been considered very safe for sailing of small freighters. The island has developed over the centuries in two distinct zones, namely, the southern and the northern zones, which are clearly differentiated from the prevalent life styles of people living there.
Bintan is very close to the Equator. Hence, tropical climate is dominant all through the year with two distinct seasons namely the northeast monsoon from November to March and a dry southwest monsoon from June to October with the annual rainfall precipitation incidence varying in the range 2,500–3,000 millimetres (98–120 in).
At Bintan and in its close vicinity of its capital city of Tanjung Pinang, there are a number of historical monuments linked to its ancient history and modern developments. Its closeness to Singapore has resulted in development of beaches as popular resorts with hotels and other paraphernalia to attract tourists. Some of the well-known sites of attractions are the Penyengat, Tanjung Pinang city, Raja Ali Haji Monument, the Colonial Graveyard, Chinese Pagodas, Banyan Tree Temple, and its many beaches and resorts. Natural Maritime Culture is also part of the historical nature's heritage of mangroves, many species of animals and birds and the rich and exotic maritime nature of the sea life.
www.indonesia-tourism.com