Kabupaten Gresik
---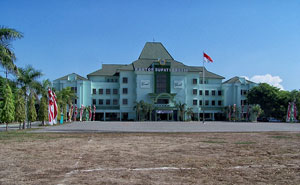 Kabupaten Gresik, merupakan kabupaten yang telah banyak menanamkan catatan sejarah dalam perkembangan bangsa Indonesia. Sejarah pertama dimulai dari peran Gresik dalam perdagangan mula-mula di abad ke 11, dan juga menjadi pintu gerbang masuknya agama Islam di tanah Jawa, dengan tokoh utamanya Syekh Maulana Malik Ibrahim dan Fatimah binti Maimun. Dalam sejarahnya, sejak abad 11 Gresik sudah menjadi pusat perdagangan dan kota bandar yang banyak disinggahi oleh bangsa Arab, Cina, Campa dan Gujarat, dan menjadi pelabuhan utama dan kota dagang yang sangat diperhitungkan di abad ke 14.
Kabupaten Gresik berbatasan langsung dengan Laut Jawa di utara; Kota Surabaya, Kabupaten Sidoarjo dan Kabupaten Mojokerto di selatan; Selat Madura di timur dan Kabupaten Lamongan di barat. Kabupaten dengan luas 1.191,25km2 ini terletak sekitar 20 Km arah utara kota Surabaya. Sesuai dengan topografi keadalam alamnya, nama Gresik merupakan nama yang diambil dari kata Giri Gisik, yang berarti "Gunung Di Tepi Panti". Hal ini didasari dari fakta yang termuat di The History of Java dari Thomas Stamford Raffles.
Saat ini, Gresik merupakan kabupaten dan kota yang banyak memperikan kontribusi karena di sini terdapat banyak kawasan industri besar seperti, PT Semen Gresik, Petrokimia Gresik, Nippon Paint, BHS-Tex, Maspion dan banyak lagi perusahaan yang sudah sangat terkenal di pasar. Selain menjadi kota industri, Gresik pun terkenal dengan beberapa obyek wisatanya, seperti pariwisata pulau dan terutama dari segi pariwisata ziarahnya.
Seperti diketahui bahwa Gresik berdiri di pesisir pantai. Pada jaman dahulu Gresik merupakan tempat persinggahan para pedagang arab yang datang ke Nusantara. Dari hal ini pula awal mula penjyebaran agama Islam dimulai. Gresik disebut juga sebagai kota santri, karena penduduknya mayoritas Islam dan banyak berdiri pondok pesantren. Selain itu di Gresik terdapat 5 Wali dari 9 Wali Songo yang dimakamkan di kota Gresik.

Latest News
Bawean Island Pulau Bawean is an island that located approximately 150 km north of Surabaya, in the Java Sea, off the coast of Java. It is administratively part of Gresik Regency, East Java. It is approximately 15 km in diameter and is circumnavigated by a single narrow road. Bawean is dominated by an extinct volcano at its center that rises to 655 m above sea level. The island is populated for about 75,000 people, but more than 26,000 of them (that is about 70% of the male population) were temporarily…
---
Sedekah Bumi Sedekah Bumi is a traditional ritual that still being held by some communities in East Java Province. This Sedekah Bumi is having different names in each region, but it has the same purpose either ways. Sedekah Bumi is kind of an offering and thanksgiving to the Earth or God, for the bountiful of harvest. The harvest can be either come from the fields or fisheries. The celebration of the Sedekah Bumi is different between one region to another. In Gresik, Sedekah Bumi is held during Zulkaidah month (Islamic…
---
Otak-Otak Bandeng Gresik has some traditional foods that worth to try, like this food, otak-otak bandeng. Gresik otak-otak bandeng is different with otak-otak from Jakarta, West Java or Sumatra. This otak-otak is made by fresh milk fish. The meat is been taken from the inside of the fish without any bones. After the meat being flavored wit some spices, the meat paste is putted in inside of the fish again, then baked for some minutes. Those make the food special and particular. www.eastjava.com
---
Songkok Gresik is located in west side of Surabaya distanced about 18 km, be industrial town with Semen Gresik factory which is famous in Indonesia, there is also big wood crafter home industry and build since 1976. Gresik is rich in case of its tourism destinations. Meanwhile, the industrial sectors are also significantly increase relating the industrial area are mostly located in Gresik. Moreover, Gresik is also have some home industrial which is concern to the making of Peci. Peci or Songkok is an identical Indonesian male hat, which is…
---