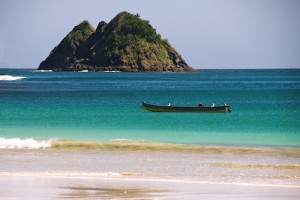 Lombok
Lombok is an island in West Nusa Tenggara (Nusa Tenggara Barat or NTB) province. It forms part of the chain of the Lesser Sunda Islands, with the Lombok Strait separating it from Bali to the west and the Alas Strait between it and Sumbawa to the east. It is roughly circular, with a "tail" (Sekotong Peninsula) to the southwest. The provincial capital and largest city on the island is Mataram. It is somewhat similar in size and density with neighboring Bali and shares some cultural heritage, but is administratively part of NTB along with sparsely populated Sumbawa. It is surrounded by a number of smaller islands, the local people called as Gili.
The island of Lombok shapes up at about 80km from east to west and about the same from north to south, with lush evergreen landscapes and parts which are chronically dry. Rice is an important crop, though yields are lower here than on neighbouring islands. Tobacco, coconuts, coffee, kapok and cotton are also important crops, while cloves, vanilla, pineapple and pepper have also been introduced.
The indigenous of Lombok is Sasak people. They are mostly Muslim but most of the cultures are similar to Bali island. Lombok is the most popular destination in Nusa Tenggara, with the fabled Gili Islands drawing visitors for action both in and out of the water, mighty Gunung Rinjani luring trekkers, and the big breaks on the south coast a magnet for surfers. Matram, Lombok's capital, is a good spot for day trips to the surrounding areas, and nearby Senggigi is superbly positioned along a stretch or sweeping bays. In east Lombok, the very scenic Sumbawa offers low key tourism and some good surf breaks.