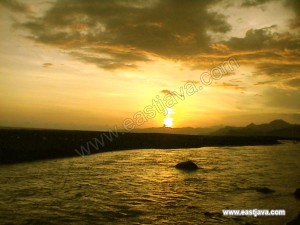 Lumajang
Lumajang regency is one of East Java regencies with the capital of the same name. This regency have borders with Probolinggo regency in North, Jember regency in East, Indian Ocean in South and Malang regency in West.
Lumajang is one of the ancient cities in Java which still exist up to this day, the name of Lumajang came up by the name of Lamajang, regarding some evidence that found which is the inscriptions, ancient books, and something related.
One of the influential inscription that mentioned about Lumajang history was Mula Malurung artifact. Mula Malurung stated as the eldest inscription because the content was mentioned about "The State of Lamajang". Hence, by that inscription it became the starting point for consideration as Lumajang birth day.
Mula Malurung inscription was discovered in 1975 in Kediri. It was written in the inscription in 1977 Saka, and it has 12 copper plates.
On plates VII page A rows 1 to 3, Mula Malurung mentioned "Sira Nararyya Sminingrat, pinralista juru Lamajang pinasangaken jagat palaku, ngkaneng nagara Lamajang", which mean; He, Nararyya Sminingrat (Wisnuwardhana) was determined to be interpreter in Lamajang and appointed to be protectors of the world in the State of Lamajang.
Lumajang most inhabitant are Javanese and Madurese with Islam as the main religion. While, on Tengger mountains on Senduro district there are Tenggerese people and Hindu is their main religion.
Lumajang has lots of beaches, 31 rivers and the famous triangle lake of Ranu Pakis, Ranu Klakah and Ranu Bedali. Those are part of Lumajang tourism objects that worth to be visited.
Written by
http://www.indonesia-tourism.com/east-java/lumajang.html
More for tourism
http://www.eastjava.com/tourism/lumajang/index.html