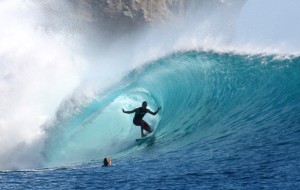 Sumbawa
Sumbawa is one of regencies in Province of West Nusa Tenggara. It is located on the island of Sumbawa and the capital is Sumbawa Besar.
Sumbawa is located in the middle of the Lesser Sunda Islands chain, with Lombok to the west, Flores to the east, and Sumba further to the southeast.
According to the history, it said that four principalities in western Sumbawa were dependencies of the Majapahit Empire of eastern Java. Because of Sumbawa's natural resources it was regularly invaded by outside forces – Japanese, Dutch, Makassarese. The Dutch first arrived in 1605, but did not effectively rule Sumbawa until the early 20th century. The Balinese kingdom of Gelgel ruled western Sumbawa for a short period as well. It was also home to the Sultanate of Bima.
Sumbawa is bounded with Flores sea and Saleh bay in north, Dompu regency in east, Hindia Ocean in west and West Sumbawa in west. The Sumbawa region is also includes a number of islands in the north island of Sumbawa, including Moyo Island, which is the largest island, Medang Island, Panjang Island, Liang Island, Ngali Island and Rakit Island.
Sumbawa's most distinguishing feature is Saleh Bay and the Tambora Peninsula with Mount Tambora. Highlands rise in four spots on the island, as well as on Sangeang Island, the large western lobe of Sumbawa is dominated by a large central highland, there is Mt. Tambora, Dompu and Bima each have more minor highlands.
There are a number of large surrounding islands, most notably are Moyo Island, volcanically active Sangeang Island and the touristic Komodo Islands (administered under Flores) to the east. Other destinations are also have the same charm that worth visited. There is The Old Palace, traditional Tepal Village, Bungin Island, Kaung island, Sili and Maci beach and more.