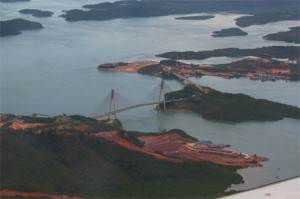 Batam Island
Batam Island is an island in the Riau Islands province, where there is a city of Batam. This island is the island's most adjacent to the state of Singapore, which just separated by a strait of 15 km wide, and a free trade zone (FTZ); part of the Sijori (Singapore, Johor (Malaysia) and the Riau Islands (Indonesia)).
Through five ferry's terminal on the island of Batam, we can travel to Singapore and Johor (one of the countries that make up Malaysia) through Sekupang Port, Port of Batam Centre, the Nongsa Port and Harbour Bay; even to the islands around Riau archipelago, from the Port of Sekupang and the Port of Telaga Punggur.
Batam is one of the largest islands in the Riau archipelago, and not long ago it was just another poor island with coastal villages and unspoiled nature. The declaration of the Batam free trade zone in 1989 has turned the island upside down, after just a few years of rapid construction it now has a modern airport, tourist and business centers and a still growing infrastructure that has changed the island completely.
Batam is actually one of fastest growing tourist destinations in Indonesia in terms of visitor arrivals. There are several tourist resorts here with luxurious hotels and golf courses. Many visitors however choose to use Batam only as an entry point, it is only 40 minutes from Singapore with boat, and then leave with the first available transport to other destinations in Indonesia.
Even if Batam is multi-ethnic it is still the Malayan culture and Islam which forms the root of the local culture. Both daily life and the ceremonies have religious and mythical elements, expressed in dance, music and other forms of art. Some of the most popular traditional dances are Jogi Dance, unique for Batam, Zapin Dance, which reflects strong Arabic influence, Persembahan Dance, to welcome honored guests and Ronggeng Dance, where the guests can be invited to come up and join the dance and song.
Over all, Batam Island is a popular tropical holiday destination in South East Asia. Of all holiday types, arguably the most appealing are the tropical island holidays. They conjure up images of warm weather, sunshine, sandy beaches, coconut palms and friendly people.
www.Indonesia-Tourism.com