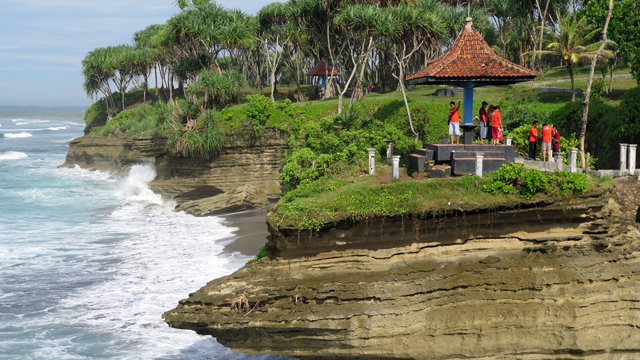 Batu Karas Beach in Cijulang Sub-District, Pangandaran
One of the best beaches in Pangandaran District is called Batu Karas. Located in Pantai Indah Street, Batukaras Village, the beach offers a splendid beauty and calm ambiance to visitors. Some tourists even call it the best destination to go surfing, as compared to other beaches. Apart from that, people often come to the location for relaxation and get away from their busy lives. That means the beach is known for its peaceful nature and soothing atmosphere, as well. What is more? Here are some amusing things people should know about the site.
The Nuance
One unique charm of the beach is related to the black sand. Unlike other beaches in Pangandaran which have either white or yellow beach sand, Batu Karas has such dark appearance. However, it has a similar feature to its siblings which is the big coral reef with dense bushes on it. The next interesting feature is definitely the waves which are strong and challenging. That means the beach would be the best option for those who want to go surfing. No wonder, many local surfers are often seen in the location! Even some foreigners are seen as well.
Exploring Batu Karas Beach
It is without a doubt Batu Karas Beach's main lure is the waves. Surfing becomes a common tourist activity and has been attracting more visitors over time. Not to mention the locals provide surfing boards and other equipment to everyone. The thing is those waves are not suitable for beginners as it is considered dangerous and risky. On the other hand, professionals are free to enjoy the activity as long as they pay attention to the skills. For common visitors, an alternative thing to do is to enjoy photography and take some pictures of the sea scenery.
Apart from surfing, Batu Karas Beach is also popular for diving. Some great spots like Legok Pari and Bulak Pendak are recommended for everyone. The fact is that the spots also become the locations where tourists can go surfing. Legok, for the example, is more challenging than the others and surfers should ride a boat to get to the site. It takes some money but it would be a worthy expense.
For those who can't surf, they can choose other fun activities like banana boat riding and jet-skiing. Even riding a horse carriage is also available there. The other activities are camping and hiking. What? That is true. Some locals would guide them to take part in those activities (by choosing the right spot to build the tent). As an alternative, getting lazy to the beach and enjoy the breezy wind would be quite satisfying enough. At the end of the adventure, tourists can go to nearby restaurants or souvenir shops.
How to Get There
A trip from Pangandaran City to Cijulang Sub-District would take about 2 hours and the distance is approximately 33.6 km. They can choose Cijulang Raya Street and use any type of vehicle they like.
More details: pangandaran.indonesia-tourism.com